'Wagner Boss's Plane May Have Been Downed By  'Bomb Hidden' In Wine Crate'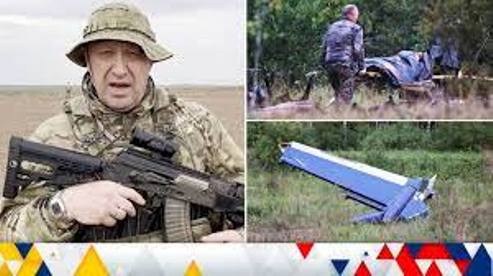 LAGOS AUGUST 24TH (NEWSRANGERS)-Wagner mercenary chief Yevgeny Prigozhin's doomed private plane showed no signs of distress until a sudden drop 30 seconds before the deadly crash in Russia — amid speculation that the rogue warlord's plane may have been downed by a bomb hidden in a crate of wine.
The Embraer Legacy 600 executive jet, with Prigozhin and other senior Wagner Group members listed among the 10 passengers, made a "sudden downward vertical" at 5:19 p.m. local time Wednesday, according to Ian Petchenik of the flight-tracking site Flightradar24.
Within about 30 seconds, the jet had plummeted more than 8,000 feet from its cruising altitude of 28,000 feet.
"Whatever happened, happened quickly," Petchenik said. "They may have been wrestling [with the aircraft] after whatever happened.
Before the aircraft's dramatic drop, there was "no indication that there was anything wrong with this aircraft," Petchenik added.
Video showed the plane plummeting with its nose pointing almost straight downward and a plume of smoke or vapor trailing behind it.
Flightradar24 received its final data on the jet at 5:20 p.m., moments before it fell out of the sky near the village of Kuzhenkino in the Tver region while traveling from Moscow to St. Petersburg.
The Embraer jet model has a stellar safety record, with only one recorded accident in more than 20 years of service.
The Brazilian plane manufacturer said it had not been providing support services for Prigozhin's jet since 2019 in compliance with US sanctions on the mercenary boss.
Since news of the plane crash broke Thursday afternoon, there has been furious speculation about its cause and who may have targeted Prigozhin — less than two months after he was labeled a "traitor" by Russian President Vladimir Putin for leading a short-lived mutiny against his top military brass.
One of the theories spreading on Russian social media sites is that a bomb had been planted onboard Prigozhin's plane, possibly concealed inside a crate of wine, reported the Telegram channel VChK-OGPU, which is linked to Russian security services.
"Supposedly someone testified that at the very last moment, a certain gift consisting of a crate of expensive wine was loaded unto the plane," wrote VChK-OGPU. " And now they are looking into claims that the crate may have contained a bomb."
The plane had been carefully searched with sniffer dogs before the wine crate had been loaded, added the Telegram channel.
The same outlet also reported, citing another anonymous source, that the flight attendant on the jet, identified as Kristina Raspopova, told her brother in a phone conversation before the ill-fated trip Wednesday that she and the rest of the crew were awaiting an "important phone call" pending their imminent departure from Moscow.
Raspopova also allegedly said that the jet had been undergoing repairs.
Investigators are said to probing the possibility that an explosive was planted in the jet's landing gear, reported the Russian outlet SHOT.
British defense sources speaking anonymously to BBC News pointed a finger of blame at Russia's FSB domestic intelligence agency, which is loyal to Putin. They provided no evidence to back up this claim.
The Telegram channel Grey Zone, which is closely tied to the Wagner Group reported, citing "various sources," that Russian air defense systems shot Prigozhin's plane out of the sky.
Abbas Gallyamov, a former Putin speech writer turned critic, suggested that the Russian strongman was behind the crash and had now bolstered his authority, which was challenged by Prigozhin's June rebellion.
"The establishment is now convinced that it will not be possible to oppose Putin," Gallyamov wrote on Telegram. "Putin is strong enough and capable of revenge."
Bill Browder, a prominent businessman and outspoken Kremlin foe, went even further in blaming Putin.
"Putin never forgives and never forgets. He looked like a humiliated weakling with Prigozhin running around without a care in the world (after the mutiny). This will cement his authority," Browder wrote on X, formerly known as Twitter.
New York Post With Post wires
For advert placement, events coverage, media placement, public relation consultancy and further inquiries please whatsApp 2348023773039 or email:labakevwe@yahoo.com
Short URL: https://newsrangers.com/?p=114081
Posted by
News Rangers
on Aug 24 2023. Filed under
National
. You can follow any responses to this entry through the
RSS 2.0
. You can leave a response or trackback to this entry