Usyk Knocks Out Dubois In Unified Heavyweight Title Fight To Meet 'Tyson Fury Next!'

LAGOS AUGUST 27TH (NEWSRANGERS)-Oleksandr Usyk defeated Daniel Dubois on Saturday night at the Tarczynski Arena in Wroclaw, Poland with a knockout victory in nine rounds.
He retained the unified WBO, IBF and WBA heavyweight belts, the titles that Usyk had won from, and defended against, Anthony Joshua.
But Usyk had to weather immense pressure to win, and pick himself up from the canvas after sustaining a shot the referee deemed was a low blow.
The Ukrainian champion had controlled the early going, mixing up his flashing southpaw jabs with good variety to catch Dubois and take the opening rounds.
But the fight ignited in the fifth round when Dubois cleaved a right into Usyk's beltline.
Usyk went down from a shot that the referee ruled an accidental low blow. He was given the full five minutes to take to recover but looked in clear discomfort.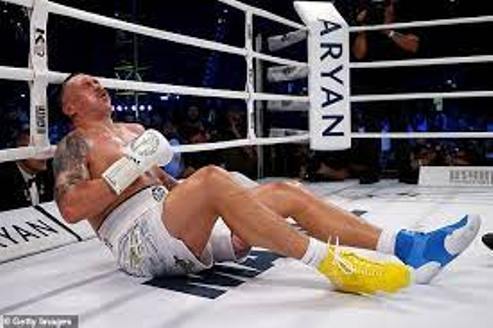 Dubois might have been denied a knockdown but on resumption he continued that onslaught, ferociously attacking Usyk's body.
The Ukrainian's resolve was sorely tested and Dubois' aggression continued with the Briton unloading big shots.
Usyk was hurt. But eventually he recovered and stung Dubois with a sweeping left hook.
Rapid-fire punches caught Dubois high on the head, dropping him at the end of the eighth round.
In the ninth, Usyk launched his lead right over the top and the Briton sank to a knee where the referee counted him out.
Dubois was defeated but enhanced his reputation immeasurably. He came in as the mandatory challenger for the WBA title but, although his punch power has always been clear, he had never beaten an elite-class opponent, having lost to Joe Joyce when his towering London rival stopped him in 2020.
Usyk, in contrast, is one of the most imperious boxers at any weight class. The 2012 Olympic gold medallist became an undisputed champion at cruiserweight when he won the World Boxing Super Series, beating Mairis Briedis and Murat Gassiev to bring together all four of the major titles in that division.
He stepped up to heavyweight and has maintained that undefeated record while dethroning Anthony Joshua and soundly outpointing him again last year in Saudi Arabia.
He would not allow himself to lose then, or now.
Usyk has become an iconic figure in his homeland. His second fight with Joshua was put back so he could return to Ukraine when Russia invaded his country.
He took this defence of his titles to Poland, as close to Ukraine as possible under the current circumstances. Usyk, always an ambassador for his people, fights to represent his country and enjoyed rapturous support in the stadium.
He needed that inspiration when Dubois, unexpectedly, had him in grave trouble.
"I feel good. I'm grateful for my team, my family, my children. I love you. I'm grateful for my country and the Ukrainian army. Thank you so much," Usyk said afterwards.
"Boxing is a tough sport, but I am great. It's boxing. I love boxing. I respect my opponent, but it's boxing, not ballet. It's a king's sport."
Beltline controversy
Dubois insisted he did not land a low blow. He maintained that should have been ruled a knockdown, if not a knockout given how long Usyk stayed down.
He said: "I don't think that it was a low blow. I've been cheated out of victory.
"That was a win tonight. But I'll come again."
Frank Warren, Dubois' promoter, and his trainer Don Charles both agreed.
"It hit [Usyk] on the waistband. That was not a low blow. How long did he get to recover? A couple of minutes? The governing body will have to look at that and order a rematch. Justice has to be done," Warren said.
Charles was left lamenting: "How is that low?"
He added: "I've usually got a lot to say but I'm speechless. Daniel Dubois has left the building. He's distraught. He's a young man aspiring to do great things in life, in boxing."
Dubois' team say they will appeal what happened. Warren later added: "That was a legitimate blow and [the fight] should've been stopped. He got three minutes and 46 seconds' recovery time, which was wrong. He got it wrong the referee and I still don't understand, if it was a low blow, why he didn't take any points off him?
"I don't think [the referee's] crooked, I think he just got it totally wrong. As a result, it should be declared a no contest in the worst case, or a rematch ordered."
Usyk, for his part, is looking to move on.
Undisputed next?
Usyk has three of the four major heavyweight titles. He wants to fight the holder of the WBC belt, Tyson Fury now.
"I'm ready," he said. "Next fight, I'm ready to fight Tyson Fury."
"I can't wait to see my children, I can't wait to get home. I miss my family. I've been in training for ages, I am a little bit tired," he added.
"Now, I'll go rest, sleep and eat. Drink sparkling water."
Sky Sports
For advert placement, events coverage, media placement, public relation consultancy and further inquiries please whatsApp 2348023773039 or email: labakevwe@yahoo.com
Short URL: https://newsrangers.com/?p=114237
Posted by
News Rangers
on Aug 27 2023. Filed under
National
,
Sports
. You can follow any responses to this entry through the
RSS 2.0
. You can leave a response or trackback to this entry