Suspected Redeemed Pastor, Vigilante Unit Commander Arrested For Robbery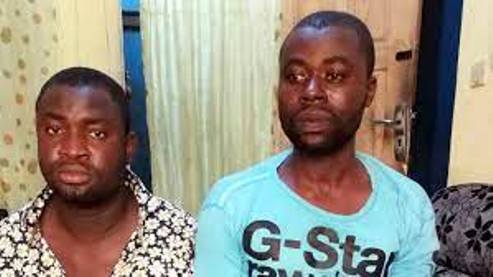 LAGOS SEPTEMBER 10TH (NEWSRANGERS)-Ola Olayode, 45, a self-confessed pastor with the Redeemed Christian Church of God, (RCCG) presiding over a parish in Ogun State, is currently in trouble. So also is Owonikoko Akeem John, 36, a Unit Commandant of the Vigilante Group of Nigeria, (VGN). They are both in hot soup over allegations of armed robbery.  The Ogun State Police Command informed the reporter that Owonikoko Akeem was the mastermind of several nefarious crimes that took place at Obalende area of Ogun State.
The suspects were arrested along the Sagamu Ijebu-Ode-Benin highway axis in Ogun State following an operation led by an Assistant Commissioner of Police, Omosanyi Adeniyi, the Area Commander in Ijebu-Ode.
Upon his arrest, Akeem reportedly made a confessional statement, where he allegedly fingered a certain police Inspector of simply identified as Ola as the supplier of the gun in his possession. It would be discovered later that Ola, a pastor with the RCCG, isn't a police inspector as he made people to believe.
How we got them – Police
But for the Ogun State Police Command Headquarters Eleweran Abeokuta, Obalende residents will now sleep well with their two eyes closed because of the arrest of Akeem Owonikoko. Police Public Relations Officer (PPRO) in Ogun State, Omolola Odutola, a Superintendent of Police (SP) said Akeem was sighted in a Toyota Camry driving inwards Ijebu-Ode from Ososa. She said as soon as the suspect sighted the police while trying to negotiate the Ijebu-Ode Highway, he diverted into a close. In the words of the PPRO, the police chased him, but noted that all the occupants of the vehicle scampered into the bush. The police spokesperson said the ACP divided the team into a cardinal search during which a disguised man in VGN uniform who was the alleged mastermind of several nefarious crimes in the state attempted to outsmart the policemen, but he was arrested. The police further stated that when a search was conducted on the vehicle that the suspect earlier abandoned, a black cellophane bag containing 32 expended cartridges were recovered among other exhibits, including 78 live cartridges and a locally fabricated short gun.
When a search warrant was also executed at his residence, it was learnt that a Magnum Pump action rifle, one double barrel short gun, one locally fabricated double barrel pistol, stunt pistol shocker, an unregistered silver colour Toyota Camry, Green colour Toyota Sienna Bus KNN 58 TD OGUN, a liquid chemical, a black beret with insigna of Aiye confraternity, cannabis, hard drugs, ATM card, power bank, 2 Apple wrist watches, 2 cell phones and charms were picked up by the police as exhibits.
The police also stated that he has made confessional statement which fingered police inspector named Ola whom Akeem identified as the supplier of the guns.
My story, by Akeem
Akeem, the VGN member, claims he hails from Ilugun Asalu, in Abeokuta,, where he had his primary and secondary education. He also claimed he was a part time student of Abraham Adesanya Polytechnic, Annex, Ilaro but dropped out due to lack of finance. He said he then worked at Abeokuta North Local Government, Akomoje, in Abeokuta, but moved to Berger in Lagos where he was managing a beer parlour.
"My older brother later decided that we should move to Ososa Town to farm. We were growing red peppers and doing some irrigation work. When the farm collapsed, I went into hatching fishes, planting okra and selling fingerlings. Thereafter, I began selling pepper soup, jollof rice, noodles and eggs at a beer parlour within the neighbourhood and also operated a movie viewing centre to provide entertainment service for the beer parlour. Things were going on fine then. I also got married," he said.
He disclosed that he had been initiated into cultism by his friends before completing his secondary school education. But he said he quit membership of the Aiye cult after his admission to Abraham Adesanya. However, he said he still reached out to members of the group whenever he was being harassed by rival gang members, especially members of the Eiye cult." He said he bought a car from the proceeds of his pepper soup business. He said because he experienced so much oppression from cult members from time to time, he had to leave the vicinity.
"I left that area and moved to an area where I rented my own house and established my own beer parlour business, where I also sold pepper soup, noodles, eggs and fruit salads"," he said.
He said some suspected fraudsters, more popularly called Yahoo Boys, later introduced him to some fraudulent activities, in addition to his business and trading in Bitcoin. He said members of the Eiye cult also traced him to his new location and even destroyed his shop. As a result of the constant harassment, he said he was advised to either join the police or any of the security agencies.
"I decided to join VGN in 2014. I obtained the form for N20,000  in Abeokuta. The day I got the form was the same day the VGN sold a jack knife and a pepper spray to me. It was same day I also bought the shocker that looks like a gun. When I started the security work, I also joined the So-Safe Corps, Agbekoya, and teamed up with three other persons. Four of us began curbing crimes within the community town. In 2017, I bought my first gun from a hunter called Victor who came to hunt with other hunters around the farm I worked. I later discovered that its butt was always shaking whenever I was using it, so I cut it to size. And to ensure that the butt was balanced, I wrapped it with a black cello tape. When I obtained the form, they got to know that there was no VGN at Ososa. So I was made Ososa's Unit Commandant by the State Commandant named Adedoyin."
Sun News Online
For advert placement, events coverage, mmedia placement, public relation consultancy and further inquiries please whatsApp 2348023773039 or email: labakevwe@yahoo.com
Short URL: https://newsrangers.com/?p=114798
Posted by
News Rangers
on Sep 10 2023. Filed under
National
. You can follow any responses to this entry through the
RSS 2.0
. You can leave a response or trackback to this entry