NBC Issues Final Warning To Arise TV On Use Of Derogatory, Incendiary Remarks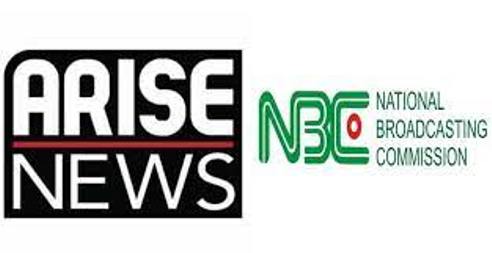 LAGOS OCTOBER 7TH (NEWSRANGERS)-The Federal Government through the National Broadcasting Commission (NBC) has issued a final warning to Arise Television over the use of derogatory and incendiary remarks on its station.
Naija News reports that the warning was contained in a letter by the NBC's Director General, Dr Balarabe Shehu Ilelah, on October 6, 2023. The letter urged the TV station to have a delay mechanism to guard against undesirable contents. The letter, which was addressed to the Chief Executive Officer, Arise Global Media Limited, also urged the TV station to keep to its responsibility of keeping its guest on check.
The letter titled: "Preponderance of derogatory and incendiary remarks: final warning" reads in part: "The NBC has observed with concern preponderance of incendiary remarks allowed on Arise news.
"This letter seeks to underscore the tremendous responsibility put on the broadcaster to manage the array of guest that may feature on the station from time to time.
"The commission listed the station's morning show programme on 5th October anchored by Reuben Abati, Rufai Oseni and Ayo Maio-Ese, which featured Oladokun Hassan and Dele Farotimi as guests. The programme contained unguarded incendiary remarks by Dele Farotimi against the Legislature and the Executive, the Judiciary and Mr. President.
"The station was also accused of not keeping to its responsibility while airing its programme "Newsday" which featured Kenneth Okonkwo, (Spokesperson of Labour Party) who used derogatory remarks on air.
"The commission therefore drew the attention of the broadcast station to broadcast rule and code 1.10.3, 3.3.1(a), 3.3.3(c), 3.3.1 (e), 5.3.3(b) and 5.5.6. Arise TV is advised to install a delay mechanism to guard against undesirable contents as prescribe in section 5.5.6 of the broadcasting code."
For advert placement, events coverage, media placement, public relation consultancy and further inquiries please whatsApp 2348023773039 or email: labakevwe@yahoo.com
Short URL: https://newsrangers.com/?p=116065
Posted by
News Rangers
on Oct 7 2023. Filed under
National
. You can follow any responses to this entry through the
RSS 2.0
. You can leave a response or trackback to this entry