Hamas Suggest Release Of  70 Israeli Hostages In Exchange For  5-Day Cease-Fire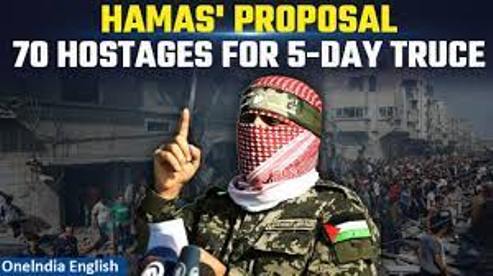 LAGOS NOVEMBER 15TH (NEWSRANGERS)-The armed wing of Hamas said on Monday it was ready to release 70 Israeli hostages, mainly women and children, in exchange for a five-day truce in Gaza.
Abu Ubaida, the spokesperson for al-Qassam Brigades, said in an audio recording posted on Telegram, and reported on by Reuters, that negotiations have taken place with Qatari mediators.
"Last week there was an effort from the Qatari brothers to release the enemy captives from women and children, in return for the release of 200 Palestinian children and 75 women detained by the enemy," Ubaida said, per Reuters.
The proposed truce, according to Ubaida, "should include a complete cease-fire and allow aid and humanitarian relief everywhere in the Gaza Strip," Reuters reported.
Roughly 240 hostages were taken prisoner during Hamas' terrorist attack in Israel on October 7, which killed some 1,400 people.
A representative for the militant group in Qatar did not immediately respond to Insider's request for comment.
While Hamas released four hostages last month through Qatari mediation and the Israel Defense Forces freed another, no additional hostages have been released since Monday's announcement.
The IDF did not immediately respond to Insider's request for comment.
In the audio recording, Ubaida also accused Israel of "procrastinating and evading" a deal, Reuters reported.
Previous reports said that Hamas had proposed exchanging 50 Israeli hostages for a five-day cease-fire in Gaza — an offer rejected by Israel.
The Guardian, which cited three sources familiar with those talks, said the deal involved the freeing of children, women, the elderly, and sick people in exchange for a pause in Israel's bombardment of Gaza, which Hamas said would enable it to gather the hostages.
But Israel demanded a much shorter timeframe for collecting the hostages, a task deemed to be insurmountable by Hamas, per The New York Times.
The latest cease-fire negotiation efforts come amid a rising death toll in Gaza, which the Strip's health ministry says now exceeds more than 11,000 people.
Read the original article on Business Insider
For advert placement, events coverage, media placement, public relation consultancy and further inquiries please whatsApp 2348023773039 or email: labakevwe@yahoo.com
Short URL: https://newsrangers.com/?p=117211
Posted by
News Rangers
on Nov 15 2023. Filed under
International
,
National
. You can follow any responses to this entry through the
RSS 2.0
. You can leave a response or trackback to this entry