Child Assassins Take Over  Sweden, Govt Plans To Deploy Army  To Quell Crisis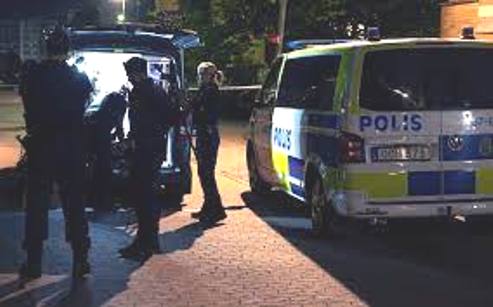 LAGOS SEPTEMBER 30TH (NEWSRANGERS)-Sweden is preparing to deploy its military to tackle a wave of gang violence across the country after three people were murdered in 24 hours.
Cooperation could involve the military providing equipment, logistical and forensic support, or sharing its expertise in bomb disposal.
On Friday, Sweden's prime minister
said Sweden was facing an "extremely exceptional situation" and that "the police cannot do everything".
Mr Kristersson has vowed to end the surge in violence and defeat the gangs, with the help of the country's armed forces.
"We are going to hunt down the gangs. We are going to defeat the gangs," he said in a televised address to the nation.
Swedish gangs are hiring child assassins, according to the police chief.
"The criminals are ruthless," Anders Thornberg told journalists, adding that the gangs also contacted people, often children, and "furnished them with weapons and gave them the address in which to stage the attack".
He added that children have even contacted the gangs themselves to offer their services as contract killers.
Mats Lindstrom, a senior police official, said he had seen many messages from children contacting gangs over contract killings as violence has escalated of late, provoked in part by internal fighting within a leading gang.
A decade ago Sweden was among the 10 safest countries in the world, however, the country has now plummeted to 28th place.
According to a count by Swedish public broadcaster SVT, 11 people were killed in shootings and explosions in September, marking the deadliest month on record in the country in the past four years.
Two people were killed in separate shootings in Stockholm on Wednesday, and a woman in her 20s, thought to be an innocent bystander, was killed when a bomb destroyed a house in Uppsala early on Thursday morning.
Last week, a man in his 70s died after being struck by a stray bullet outside a bar. In total, seven innocent bystanders have been killed over the past 12 months.
"An increasing number of children and completely innocent people are affected by this extreme violence," Mr Kristersson said.
He added that the country's laws had not been designed to cope with "child soldiers" – boys as young as 13 or 14 who are recruited as freelance killers.
'Sweden has never seen anything like this'
In August 2023, there were 69 people aged under 18 in custody in Sweden, compared with 14 in the same month two years earlier.
The police estimate that about 30,000 people in Sweden are directly involved with or have ties to gang crime. The violence has also spread from major urban areas to smaller towns where violent crime was previously rare.
"Sweden has never seen anything like this. No other country in Europe is seeing anything like this," Mr Kristersson said.
Mr Kristersson formed a centre-Right minority government after last year's election with the support of the populist and anti-immigrant Sweden Democrats, ending eight years of Social Democrat-led governments in Sweden.
His coalition won the election on a promise to tackle growing gang violence, and it has launched a series of initiatives such as greater powers for police and harsher punishment for gun crimes.
The measures have yet to take effect, but Mr Kristersson blamed previous governments for the problems.
"It is an irresponsible immigration policy and a failed integration that has brought us here," he said.
The Telegraph
For advert placement, events coverage, media placement, public relation consultancy and further inquiries please whatsApp 2348023773039 or email: labakevwe@yahoo.com
Short URL: https://newsrangers.com/?p=115861
Posted by
News Rangers
on Sep 30 2023. Filed under
International
,
National
. You can follow any responses to this entry through the
RSS 2.0
. You can leave a response or trackback to this entry