Australia Woos Junior Doctors With £130,000 Annually, 20 Days Off  A Month

LAGOS MAY 4TH (NEWSRANGERS)-Junior doctors are being lured to Australia with job adverts promising A$240,000 (£127,600) salaries and 20 days off a month to "travel, swim and surf in the sun".
In a reference to the popular autobiography and TV series This is Going to Hurt, which was written by Dr Adam Kay, a former junior doctor, the advert opens: "A&E Registrar sick of the NHS? This isn't going to hurt."
Applicants are encouraged to "escape the grind" with a working holiday in Australia where they would be required to carry out just 10 shifts a month.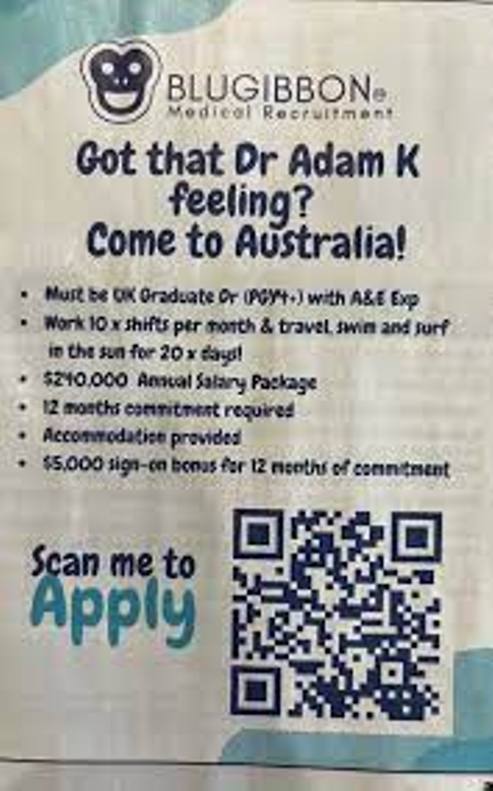 Each shift in a private hospital would pay A$2,000 (£1,064), which, when added to sign-on and other bonuses of up to A$25,000, would put the applicant in the top 5 per cent of earners in Australia.
The job advert, by BluGibbon Medical Recruitment, says applicants must be fourth-year UK graduate doctors with accident and emergency (A&E) experience. The equivalent baseline pay for a medic of this level in the UK is upwards of £40,000.
The advert was published in the British Medical Journal with a QR code allowing doctors to scan it and apply immediately.
It comes after a survey by the General Medical Council (GMC) found more than half of doctors who have left the UK are still working clinically abroad, with one in six going to Australia.
A poll by the British Medical Association (BMA) last year found a third of junior doctors were planning to move abroad in the next 12 months, with Australia the top choice.
The publication of the advert was criticised by medics, with Dr Kay calling it "depressing".
In a tweet sharing the advert, he said: "It's hard to say those figures don't present a compelling argument. It all leads to a big question for the [Government]: if you don't address doctors' very reasonable pay concerns, alongside their conditions and wellbeing, guess where they're going?"
Dr Mike Greenhalgh, BMA junior doctors committee deputy co-chair, said junior doctors see these adverts "almost on a daily basis".
"Every junior doctor will have friends, colleagues or classmates who have already gone to Australia or New Zealand. Some initially plan to go for a year and end up staying. This is a huge loss to our already overstretched workforce," he said.
It comes as junior doctors are locked in a pay dispute with the Government and demanding a 35 per cent pay rise to restore wages to 2008 levels. The BMA met with Steve Barclay, the Health Secretary, on Tuesday for "constructive" initial talks. The parties are expected to meet again soon.
Junior doctors have taken two rounds of strike action so far this year, with Dr Rob Laurenson, BMA junior doctors' committee co-chair, confirming they were prepared to reballot members again to extend their mandate to the rest of the year.
Almost 200,000 NHS appointments and procedures were cancelled in April because of the 96-hour walk out by junior doctors.
Boutique A&E
The successful applicant would work in a "small private boutique emergency department" in Brisbane, Australia, according to the advert.
"Work 10x shifts per month [and] travel, swim and surf in the sun for 20x days!" the advert reads. "$240,000 annual salary package, 12 months commitment required, accommodation provided, $5,000 sign-on bonus."
"Located in a large tertiary private hospital in Brisbane (a future Olympic City) in Queensland – the state with the Whitsunday islands, Great Barrier Reef and so many natural wonders to explore," it adds.
"Major tourist beaches are dotted north and south including the Gold Coast and winter weather sits around 13 degrees and feels like a light summer day in the UK."
Doctors would see between 30 and 50 patients per day, with waiting times in A&E average at 4 minutes per patient. "Yep, you read that right – 4 minutes," it adds.
A spokesman for the BMJ said it features a "wide variety" of job adverts which are "legal, decent and truthful and comply with relevant standards". They added it does not endorse the content of job adverts.
The Telegraph
Please follow and like us:
Short URL: https://newsrangers.com/?p=106963
Posted by
News Rangers
on May 4 2023. Filed under
Health
,
International
,
National
. You can follow any responses to this entry through the
RSS 2.0
. You can leave a response or trackback to this entry