Tinubu Allegedly Sends Team Of Five Lawyers To Defend Him In Atiku's Claim On Chicago Records Case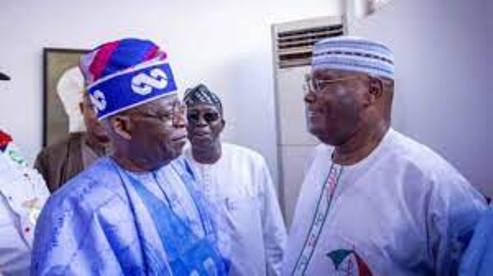 LAGOS AUGUST 18TH (NEWSRANGERS)-President Bola Tinubu has sent Oluwole Afolabi, a lawyer of the All Progressives Congress — who inundated Adams Oshiomole with legal battles leading to his removal as party chairman in 2020 — to the U.S. to defend him in the Chicago university records case in which his principal opponent Atiku Abubakar is seeking a subpoena for the institution to release his school records
Documents seen by Peoples Gazette showed Mr Afolabi, on August 14, filed a motion at the United States District Court for the Northern District of Illinois to appear for Mr Tinubu pro hac vice, a judicial process that allows a lawyer not admitted to practice in a jurisdiction to appear for a client in a particular case in that jurisdiction.
The motion, granted on August 16 by Judge Nancy Maldonado, suggested Mr Afolabi would be running point on the case, to be supported by Charles Carmichael, a Chicago-based lawyer who had been representing Mr Tinubu since Mr Abubakar brought the lawsuit over the past month. The Gazette learnt that at least five lawyers are charged with vigorously defending Mr Tinubu's interest.
In 2020, Mr Afolabi had been actively practising law out of Nigeria and had gained prominence for having effectively ousted Mr Oshiomole as chairman of the APC. He was at the time representing controversial politician Victor Giadom, who had been seeking to topple the party's national chairmanship in order to occupy the position himself.
The Nigerian lawyer, who listed a Staten Island, New York, address for the U.S. arm of his law practice, is expected to lend his Nigerian knowledge and expertise to build a solid defence against Mr Abubakar's arguments. Several other Nigerian lawyers and professionals are known to use the same address Mr Afolabi listed at 805 Castleton Avenue, including Dayo Owotomo.
Mr Abubakar is seeking to clarify decades-long controversies, ranging from age, academic background and even gender, that Mr Tinubu may not be the person he long claimed to be so as to nullify his electoral victory at the presidential election petitions tribunal in Nigeria.
Independent journalist David Hundeyin obtained records showing a female Bola Tinubu that attended Chicago State University in the 1970s.
Although the institution affirmed that it graduated a Bola Tinubu on June 22, 1979, it declined to respond when asked to clarify the student's gender and if it was the same person as Nigeria's president.
Mr Abubakar's attorneys found Mr Tinubu's adamant opposition to the move to divulge his documents to be puzzling and abnormal, arguing that a president should be ready to address any rumours of errors in his credentials rather than fighting to conceal them.
Consequently, Judge Jeffrey Gilbert gave Mr Tinubu until August 23 to file a convincing response arguing why his school records should not be released to Mr Abubaka
Peoples Dazette.
For advert placement, events coverage, media placement, public relation consultancy and further inquiries please whatsapp 2348023773039 or email: labakevwe@yahoo.com
Short URL: http://newsrangers.com/?p=113685
Posted by
News Rangers
on Aug 18 2023. Filed under
National
. You can follow any responses to this entry through the
RSS 2.0
. You can leave a response or trackback to this entry