Soldiers Hold Niger Republic President Hostage In Suspected Coup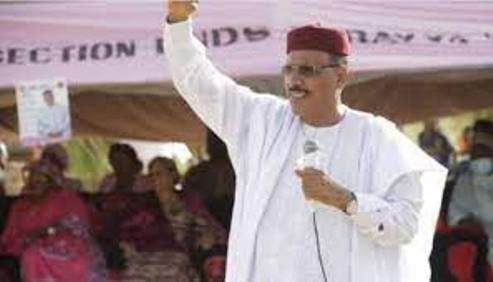 LAGOS JULY 25TH (NEWSRANGERS)-Niger's presidency has said some members of the presidential guard tried to move against President Mohamed Bazoum, warning that the army was ready to attack them if they did not back down.
The presidency's official Twitter account said on Wednesday that presidential guards engaged in an "anti-Republican demonstration" and tried "in vain" to obtain the support of the other security forces.
It added that Bazoum and his family were well after news agencies quoted security sources as saying that the guards were holding Bazoum inside the presidential palace in the capital, Niamey.
The palace and ministries next to it had been blocked off by military vehicles on Wednesday morning. Staff inside the palace were also unable to access their offices, presidency, and security sources said. But there was calm elsewhere in Niamey.
Al Jazeera's Ahmed Idris reporting from Abuja in neighbouring Nigeria said there was a directive from the army for troops loyal to Bazoum to move in to quell the coup attempt.
Meanwhile Bola Tinubu, president of Nigeria and new chair of the Economic Community of West African States (ECOWAS), called the events "unpleasant developments" and said he was already in "close consultation" with other leaders in the region about the situation.
"The ECOWAS leadership will not accept any action that impedes the smooth functioning of legitimate authority in Niger or any part of West Africa … we will do everything within our powers to ensure democracy is firmly planted, nurtured, well rooted and thrives in our region", he said in a statement.
It remains uncertain why there was a revolt but analysts say rising costs of living and perceptions of government incompetence and corruption may have driven the mutineering soldiers to action.
"The [attempted] coup fits into a long pattern of inability by the political class to speak to the economic challenges and the security and political instabilities in the country," Emmanuel Kwesi Aning, professor of peacekeeping practice at Kofi Annan International Peacekeeping Training Centre, Accra, told Al Jazeera on Wednesday. "That nevertheless, does not justify the attempted coup."
"Corruption is the big elephant in the room, plus a fight against violent extremists. This is a challenge that almost all West African governments are facing," he added.
Bazoum was elected president in a 2021 election that was the first democratic transition of power in a state that has witnessed four military coups since independence from France in 1960.
There have been four military takeovers in neighbouring Mali and Burkina Faso since 2020.
Those coups were spurred in part by frustrations over authorities' failure to stem a rebel uprising blighting the Sahel region – which includes Niger – that was once derided as the "coup belt".
There was also a thwarted coup attempt in Niger in March 2021, when a military unit tried to seize the presidential palace days before Bazoum who had just been elected, was due to be sworn in.
Niger is a key ally to Western powers seeking to support local troops fighting a conflict which took root in Mali in 2012 and has spread to neighbouring countries including Burkina Faso and the southern coastal states.
France moved troops to the country from Mali last year after its relations with the military government there soured – an emerging pattern in former French colonies in the region.
Aljazeera
Short URL: http://newsrangers.com/?p=112530
Posted by
News Rangers
on Jul 26 2023. Filed under
International
,
National
. You can follow any responses to this entry through the
RSS 2.0
. You can leave a response or trackback to this entry