Security Risk: US Government Warns Citizens To Avoid Travelling Twenty Countries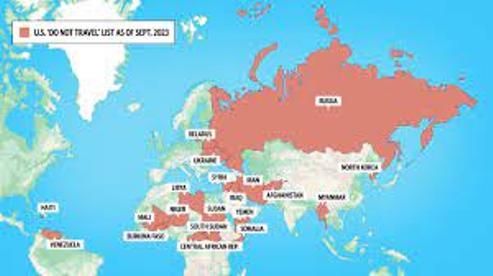 LAGOS SEPTEMBER 20TH (NEWSRANGERS)-Iran and the U.S. executed the final steps of a highly complex diplomatic deal that saw five Americans released from an Iranian prison on Monday. The prisoners landed safely on U.S. soil on Tuesday morning after years spent locked away in Tehran's notorious Evin Prison.
President Biden released a statement praising the return of the prisoners and thanking the "partners at home and abroad" whose efforts led to their release. However, he also reiterated a warning to American citizens about travel restrictions for the Middle Eastern country: "I once more remind all Americans of the serious risks of traveling to Iran."
What does the State Department say about travel to Iran?
Iran has been assigned the highest warning level due to the risk of kidnapping and the possibility of getting arrested and jailed. "Exercise increased caution due to wrongful detentions," the State Department website says. There is now at least one U.S. national, Shahab Dalili, who the State Department claims is being wrongfully detained.
"All Americans should heed those words and have no expectation that their release can be secured if they do not," Biden said about the warning. The U.S. hasn't had diplomatic relations with Iran since 1980, after the Iranian takeover of the American Embassy in November 1979.
How U.S. travel advisories are determined
Travel advisories for American citizens are issued by the State Department in four levels, and an increase in crime, health warnings and civil unrest can cause a country's risk level to change. The advisories are:
What countries are Level 4?
In addition to Iran, there are currently 19 other countries that the State Department advises all American passport holders to avoid visiting.
Russia — Level 4: Do Not Travel
The State Department has warned American citizens to avoid traveling to Russia due to the "unpredictable consequences of the unprovoked full-scale invasion of Ukraine" as well as possible detention and harassment.
The diplomatic relationship between the U.S. and Russia is at its lowest point in decades. Last week the Kremlin expelled two American diplomats for keeping in contact with a Russian citizen who it believed was an informant for Washington.
Niger — Level 4: Do Not Travel
American tourists should reconsider travel to Niger over "crime, terrorism, and kidnapping," the State Department warns. A coup in August led to political chaos and protests across the capital.
All American citizens were evacuated from the country after the French Embassy in Niamey was attacked by protesters. "With the ongoing efforts to overturn constitutional order, there may be increased demonstrations that can lead to civil unrest and government instability," the State Department warns.
South Sudan — Level 4: Do Not Travel
Americans are cautioned by the State Department to avoid travel to South Sudan over risks of "crime, kidnapping, and armed conflict." Foreign nationals have even been the victims of "rape and sexual assault."
Journalists have also been warned about reporting from South Sudan without obtaining the appropriate documentation. Without these documents, reporting is deemed illegal. "Journalists regularly report being harassed in South Sudan, and many have been killed while covering the conflict," the State Department writes.
Other countries listed as Level 4 include:
Somalia
Mali
Central African Republic
Burkina Faso
Haiti
Belarus
North Korea
Myanmar
Venezuela
Syria
Libya
Iraq
Afghanistan
Ukraine
Sudan
Yemen
Yahoo/News
For advert placement, events coverage, media placement, public relation consultancy and further inquiries please whatsApp 2348023773039 or email: labakevwe@yahoo.com
Short URL: http://newsrangers.com/?p=115292
Posted by
News Rangers
on Sep 20 2023. Filed under
International
,
National
. You can follow any responses to this entry through the
RSS 2.0
. You can leave a response or trackback to this entry