Couple Accuse EFFC Of 'Foot Dragging' In N600m Alleged Fraud Against APC Chieftain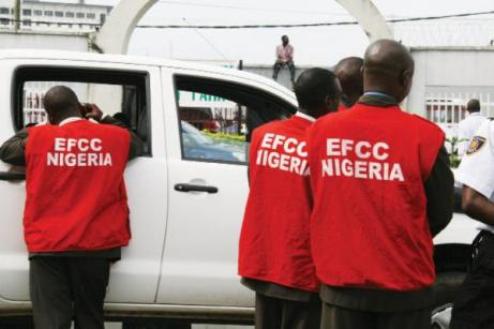 LAGOS NOVEMBER 2ND (NEWSRANGERS)-A Lagos-based lawyer, Blessing Ahmed, of Blue Diamond Law firm, has called on the Chairman of the Economic and Financial Crimes Commission, Ola Olukoyede, to as a matter of urgency urge his operatives to firm up investigations and charge to court a matter relating to money diversion and fraud to check the complaints: Uzoma Ofong and his wife, Onyinyechi Ofong, from killing themselves to suicide to end their suffering.
The lawyer stated this on Tuesday while addressing a crop of select journalists in Ikeja, Lagos State.
According to Ahmed, the matter has been with the EFCC for a while now, with the anti-graft promising to charge the matter to court
But it is now over 12 months since that promise was made.
Ahmed opined that the anti-graft agency might be foot-dragging on the matter because the suspect involved in the matter is a politician identified as Adama J. Adama of the All Progressives Congress, stressing that nobody should be above the law.
According to Ahmed, she was always torn emotionally whenever she saw the couple weeping like babies as they fretted over the likelihood of not getting justice, while the politician strutted about town, allegedly boasting of being influential and an untouchable.
Ahmed, who said that she knew the antecedent of the EFCC in cracking cases and getting justice for the underdogs, wondered why this had become a hard nut to crack and now dragging for no reason.
The lawyer accused the politician of economic fraud, diversion of funds and obtaining money under false pretence.
She also stated that the politician used his firms: farm4me Agriculture Limited and ViableXagribusiness Limited, both of Suite B102 and B103, Millennium Builders, Central Business District, Abuja, to carry out the fraud, which allegedly runs into over N600 million.
When Onyinyechi was asked how life had been since the incident, she said: "Imagine a relationship of 25 years destroyed, with many of my friends, church members and family members calling me liar, writing my church where I had been worshipping for years, that I am a fraud.
"Imagine people coming to my house to create scenes.
"My only brother, who put millions into this investment, was diagnosed with cancer and couldn't access money for treatment.
"He died.
"My husband and I are not battling ill health, but no money for medication.
"I will be invited to functions, but I won't attend because of people.
"I never knew I could go without sleep for 72 hours until this incident.
"I can't eat!
"I can't sleep!
"To feed these days is difficult and people now assist us with money to pay school fees.
"People we took money from are going through this same mental and emotional torture we are going through.
"Some of them invested their gratuities.
"We are all shadows of ourselves.
"We hope EFCC helps to get justice.
"This is two years running and this is not what we bargained for.
"This man is not in hiding.
"He's all over the place.
"He even went into politics.
"About 12 months ago, EFCC said it had been preparing to charge the matter to court, but to date, nothing had happened.
"Let justice be served so that my husband and I and other people whom we collected money from can regain our lives."
Ahmed explained that the couple, who are owners of Oak & Timber Resources Limited, went into an investment deal with Adama, which worked out for a while, but things soon suddenly went downhill.
But while the couple had been living a torturous existence having collected money from family, friends and church members to pool into the business, the alleged Adama dived headlong into politics.
A petition written to the EFCC by Ahmed, stated: "On June 15, 2020, Viable X Agribusiness Ltd. and Farm4me Agriculture Ltd. through one of its directors, Mr. Adama J. Adama approached our client to invest in their Agric business and be entitled to interest upon maturity of such investment depending on the investment plan which could be quarterly, half-yearly.
"Subsequently, our client met physically with the companies' representative, Mr. Adama J. Adama and staff in their Lagos office and visited their farm in Benue State. Telephone conversations, WhatsApp messages and other correspondences were exchanged and a business relationship was established.
"Sequel to the above, our client then sourced funds from associates and invested over N400,000,000.00k only on different investment plans which was paid into Viable X Agribusiness Ltd. UBA account no. 1022805413 and Farm4me Agriculture Ltd. UBA account no. 1022805389 between 2020 and mid-2021 respectively to wit certificates of investment were issued.
"However, it was a rude shock to our client when the matured invested sums were not paid by these companies despite constant demands from our client.
"It became crystal to our client that it was an economic scam when all efforts made to reach the companies' representative and principal staff proved abortive as Mr Adama has now blocked our client's representatives' phone lines and tactically evaded meetings with them on different occasions, coupled with the closure of their physical offices both in Lagos and Abuja.
"As of the date of this letter, these companies are liable to our client in the sum of N580,428,680.00k. Also, the sum of N87,878,209.00K expected on January 29, 2022, N46,294,875.00K is expected to mature on January 30, 2022, and N69,897,708.00K expected on February 9, 2022, respectively.
"It will interest your office to note that while Farm4me was yet to pay the long overdue invested sum to our client, it sent out a message on the 8th of December 2021 on its social media accounts claiming to have acquired Jamis Micro Financial Bank and surpassed her expectations and financial objectives for the year.
"Our client believes that her invested money was obtained under false pretence and same was diverted for the directors, shareholders' gratification at her expense, hence this petition.
"We are aware that your commission frowns at such economic fraud of obtaining money under the pretence of investment and thereafter fraudulently diverting the funds for personal gains, thereby causing financial hardship on unsuspecting citizens. Our client humbly seeks your interference in investigating and where necessary prosecuting these Companies to curb such financial scams. More information will be made available upon request."
It was gathered that Adama had earlier been invited by the EFCC, where he admitted collecting money from the couple and promised to pay.
He also was said to have paid a bit of the money, but had gone back to his politicking.
Ahmed said that security guards at Adama's shut down offices told her that investors used to throng the places to look for the absent politician.
She said she was told that as the investors came crying, so also did they leave crying.
She demanded that the matter be charged to court so that justice could be served to the investors, including her own client.
Eagles Online
For advert placement, events coverage, media placement, public relation consultancy and further inquiries please whatsApp 2348023773039 or email: labakevwe@yahoo.com
Short URL: http://newsrangers.com/?p=116952
Posted by
News Rangers
on Nov 2 2023. Filed under
National
. You can follow any responses to this entry through the
RSS 2.0
. You can leave a response or trackback to this entry