True Story Of How Lt Commander Yusuff (Rtd)  Was Slaughtered By His Son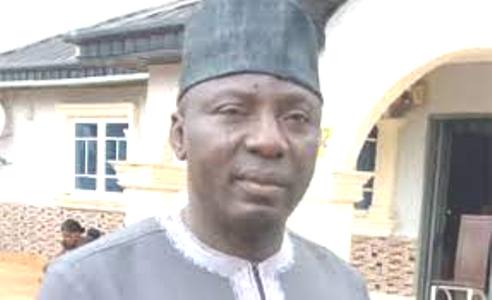 By Fadaka Louis
LAGOS JANUARY 11TH (NEWSRANGERS)-The social scene has been abuzz by the news of patricide (a son killing his father) that occurred on the night of the 20th December, 2022, at their residence in Ayobo, a border town between Ogun and Lagos State.  Different theories (mostly untrue) as to what led up to the tragic event have been making the rounds. I was fortunate enough to share a deep connection with the deceased who was a retired Lieutenant Commander of the Nigerian Navy and I believe I am one of the people in the best position to set the record straight as I and the deceased have known each other for thirty-seven (37) years. I will use my extensive knowledge of the deceased and the family he left behind, including the son who stands guilty of committing this heinous crime, to narrate this story as accurately as possible. So help me God.
Retired Lieutenant Commander Adeiza Hassan Yusuff (Lt Cdr AH YUSUFF) was born on the 3rd August 1965 and he was a native of Ikuehi, Ihima in Okehi LGA of Kogi State. He spent most of his formative years in Ibadan, Nigeria, growing up with relatives, having lost his both parents at an early age.  He enlisted in the Nigerian Navy on the 17th  February 1985 as a Weapon Electrical Artificer and he studied and passed several professional courses and passed through many rigorous training successfully, making him one of the best Weapon Electrical Artificers during his service years. In his early years in the Military, he got married to the mother of his children but sadly she passed away after a brief illness in the year 1999 at the Nigerian Navy Reference Hospital, Ojo, Lagos, leaving behind a son and a daughter.
Despite him grieving his late wife whom he loved dearly from all appearances and the abrupt adjustment to a single fatherhood, Lt Cdr Yusuff poured all his love, devotion and attention towards his children and his work. He was commissioned as a Sub Lieutenant in the Nigerian Navy on the 14th December 2001. Due to the exigencies of service as a Naval officer, it became very difficult to move to different places of appointment with the little children and he felt it was unfair to uproot the children from one environment to the other, so he decided to give the children proper roots and a suitable growing environment by taking a new wife, three years after the demise of his wife. The new wife (name withheld for security reasons) was never blessed with a child of her own but from the moment she knew the children, she took them as hers, devoting all her love and attention to them and making sure that they never lacked love and support from her and Lt Cdr Yusuff.
After 35 years of service in the Nigerian Navy, Lt Cdr Yusuff was honourably retired on the 17th February 2020. He was bestowed with honors like FSS and Pjsc.   He was among the best Weapon Electrical Officers the Nigerian Navy ever produced and he left indelible and evident  marks in all his places of appointment as  an officer of the Nigerian Navy.
Overcome with gratitude and affection, Lt Cdr Yusuff bought cars and property for his family. For Mrs Yusuff, he bought a Lexus 330RX and for his children, he bought a Toyota Corolla and made further efforts to support them both in their different higher institutions.
While the younger sibling (Name withheld for security reasons) has been doing very well for herself, she is of good character and has graduated from higher institution and presently doing her National Youth Service in Lagos, the older sibling, Afeez (a young man of 28 years) has always been a source of challenge and constant worry to both parents.  He has been dismissed from three different higher institutions, due to different infractions. He was hooked on hard drugs and kept very questionable company. He was into fraudulent activities and most recently, he impregnated a girl with questionable character and they both had a baby girl.  Lt Cdr Yusuff was never tired of his son but accepted him, the mother of his baby and the little baby too. He was their primary caretaker and he made sure they never lacked anything, all the while, never neglecting his other responsibilities to his wife and his second child. Lt Cdr Yusuff put his son on a monthly allowance and established a barbing salon and POS stand for him to be able to take care of his and his new family's needs.
Earlier in this year, 2022, Lt Cdr AH Yusuff was in Abuja to obtain some documents from the Military Pension Board to enable him get a bank loan for his son to travel to the United Kingdom for a chance of a better life.  All necessary papers had been processed and the son, Mr Afeez Yusuf was scheduled to travel to the United Kingdom in January 2023.
Meanwhile,  a relative of Lt Cdr AH Yusuff's wife delivered a baby and invited Mrs Yusuff to Dubai to take care of the new baby, since she is closest relative the new mother had as a caretaker.  It was a welcome news for the family as Mrs Yusuff took this trip as an overdue mini vacation. She travelled out of the country on  15th  October 2022 and was initially supposed to return in January, 2023. she left her husband and Afeez and his family behind. It must be pointed out though, that there are other tenants occupying the Boys' Quarters at the Yusuff's residence but he stayed in the main house with Afeez and his family.
Prior to the tragedy that occurred, Afeez sent his wife and baby away on some flimsy errand leaving him and his father alone in the house. On Tuesday 20th December,2022, Lt Cdr AH Yusuf returned home during the early hours of the evening and his son calmly welcomed him home.  While Yusuff was about to retire into his bedroom, Afeez went out and put on the generator, he locked all the entrances to the house and when his father went to check on his son and inquire why he put on the generator when there was public power supply, Afeez put the change over switch to neutral throwing the whole house into darkness. Unable to see, his father called out to him, Afeez hid himself in the dark, armed with a pestle with which he dealt a dazing blow on his father's head. even while dazed and confused Lt Cdr AH Yusuff had the presence of mind to shout for help which alerted the tenants while his son descended on him with cutlass inflicting deadly blows and cuts on his head and body.
The tenants on hearing his desperate cries for help came over trying to force doors open but the doors had been locked by Afeez. Despite desperate pleas from both the tenants and the now gravely injured Lt Cdr Yusuff, Afeez continued chasing and delivering deadly blows to his father who was running around the house in a state of severe pain and confusion while the tenants could only watch helplessly. Afeez calmly told them that when he was through with what he was doing, he would open the doors.  True to his words, when Afeez had mutilated Lt Cdr AH Yusuff beyond recognition and subsequently killed him, he opened the door and attempted to jump over the fence to escape, but was apprehended and handed over to the police.
At the police station, family and friends that wanted to find out what angered him so much as to kill his father, Afeez was reported to have said that his father did nothing to draw his ire but it was his (Afeez's) life long ambition to kill his father.  Neighbors, family and friends that had knowledge of the arrangements his father had made for Afeez to travel out of the country inquired of Afeez if he too was also aware, he replied that even if it remain a day for him to travel out of the country, he would still have killed his father.
Up to the time of writing this, Mr Afeez Yusuff has not even provided the slightest excuse, neither has he shown any remorse to justify his heinous action.
I write this as an insider to discard all other news making the rounds.  Lt Cdr AH Yusuff (Rtd) never neglected his family. His life revolved around his family, especially his two children and he died as he lived, a loving, caring father who did everything in his power to provide the best that life could offer for his children.
You will always be remembered and the person responsible for your untimely and violent demise would face the full extent of the law.
Rest on, My Course mate, my bosom friend, my village man, ever smiling Lt Cdr AH Yusuff.  You died as man, a father and a friend.  Rest in Peace, Sir.
https://www.gbetutv.com
Please follow and like us:
Short URL: https://newsrangers.com/?p=99484
Posted by
News Rangers
on Jan 11 2023. Filed under
Features
,
National
. You can follow any responses to this entry through the
RSS 2.0
. You can leave a response or trackback to this entry