Presidency: Judgment Day For Tinubu, Atiku, Obi On Wednesday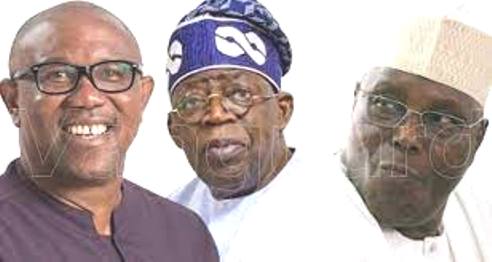 LAGOS SEPTEMBER 4TH (NEWSRANGERS)-A Nigerian election tribunal will on Wednesday deliver its ruling to petitions challenging the result of a presidential vote that brought Bola Tinubu to power, the court registrar said on Monday.
The victory in February for Tinubu, of the All Progressives Congress, is disputed by his two main opponents. Atiku Abubakar of the People's Democratic Party and Peter Obi who came second and third in the race, respectively, challenged Tinubu's victory in court on the basis of fraud claims.
The tribunal, which started hearing in June, will give its ruling on Sept 6, the registrar said, adding that the judgment will be televised.
Every election result has been contested since Nigeria returned to democracy in 1999, and none has been overturned by the courts, with the exception of the 2015 poll in which Goodluck Jonathan conceded defeat to Muhammadu Buhari.
Most observers expect the tribunal to uphold Tinubu's win.
Tinubu, 71, has since been sworn in as Nigeria's president, despite the election challenge, and has been under pressure to quickly improve economic and security conditions. He will be in India attending the G20 summit when the ruling is delivered.
Tinubu, a long-standing member of the ruling party, won 37% of February's vote, the lowest share since 1999.
The main opposition parties have described the outcome of the election as fraudulent after a new technology that the electoral commission had promised would make the process more transparent malfunctioned, eroding trust.
Voter turnout was also low, even by Nigerian standards. With total votes cast at just under 25 million, out of 87 million people with voter identity cards and eligible to vote, turnout was only 29%. The previous 2019 election saw a 35% turnout.
Reuters
For adver placement, events coverage, media placement, public relation consultancy and further inquiries please whatsApp 2348023773039 or email: labakevwe@yahoo.com
Short URL: https://newsrangers.com/?p=114521
Posted by
News Rangers
on Sep 4 2023. Filed under
National
. You can follow any responses to this entry through the
RSS 2.0
. You can leave a response or trackback to this entry