Niger Coup: A litmus Test For Democracy In ECOWAS' Countries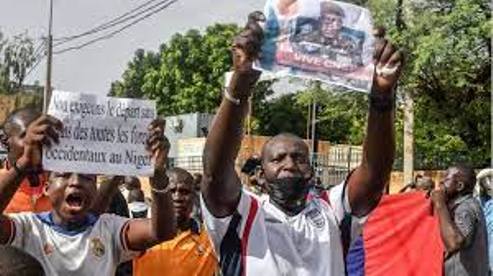 LAGOS AUGUST 2ND (NEWSRANGERS)-President Bola Tinubu, who is at the helm of regional superpower Nigeria, regards the coup across the border in Niger as a litmus test for democracy in West Africa.
Having assumed the chairmanship of regional bloc Ecowas a mere three weeks ago, he was confronted with a major foreign policy challenge when the military seized power in Niger – a strategic ally in the fight against militant Islamists wreaking havoc across much of West Africa.
Mr Tinubu had raised concerns about the coups in Burkina Faso, Mali and Guinea when he rose to Nigeria's presidency in May, saying Ecowas needed to strengthen its regional force to prevent further coups, and to fight the militants.
So when Niger's President Mohamed Bazoum was overthrown by his presidential guards last week, he responded swiftly by convening a summit of West African leaders at his presidential villa on Sunday.
The regional bloc gave an ultimatum to Niger's junta – hand back power to the elected president within a week or Ecowas would take "all measures necessary to restore constitutional order".
"Such measures may include the use of force" and military chiefs were to meet "immediately", their statement added.
Though Mr Tinubu's own victory in February's presidential election is being challenged in the courts by opposition candidates who claim the result was rigged, he styles himself as a democrat who took part in the campaign against military rule in Nigeria in the 1980s.
"I think he sees this [coup] as an affront to his democratic credentials, particularly at a time that he is holding the chairmanship of Ecowas," said Wole Ojewale, a Nigerian analyst with the Institute for Security Studies (ISS).
More crucially, the coup has a direct bearing on Nigeria. The two countries share a border which stretches for more than 1,500km (930 miles), and they have strong cultural and trade ties that date back to the pre-colonial era when a chunk of both were part of the Sokoto caliphate.
Their security is also intertwined. Militant Islamist group Boko Haram has carried out attacks in both countries, with a military force – made up of troops from Nigeria, Niger, Chad and Cameroon – fighting them. The force's "strategic and technical partners" include the UK, US and France, with the latter two having military bases in Niger.
While Niger accounted for about 4% of global uranium output in 2022, it is the world's seventh largest producer of uranium and has the highest-grade uranium ore in Africa.
Neither Ecowas nor its Western partners would want the radioactive material – used in both civilian and military settings – to fall into the wrong hands in a region where militant Islamists are active and Russia and the Wagner mercenary group are expanding their influence.
After their coups, Mali and Burkina Faso pivoted towards Russia, with the junta in Niger giving the impression that it could move in the same direction.
Chad's leader Mahamat Idriss Déby Itno – who was put in power by his own army after his father was killed by rebel forces in 2021 – went to Niger on Sunday to urge the junta to heed Ecowas' ultimatum.
Chad is not a member of the regional bloc, but Mr Déby attended its meeting earlier on Sunday. As a military strongman, he was seen as ideally placed to strike a rapport with the coup leaders and to urge them to step down.
But the junta has so far refused.
Instead, it has stepped up its rhetoric against both the West and Ecowas, and thousands of its supporters took to the streets of Niger's capital, Niamey, on Sunday to back the coup. Some of them attacked the French embassy and waved pro-Russian flags.
But it is unclear whether the military takeover has majority support in Niger – more than half of its citizens were satisfied with the way democracy worked in their country, according to a 2022 survey by respected research group Afrobarometer.
Only Tanzania, Zambia, Sierra Leone and Mauritania had a better democratic approval of the 36 African countries surveyed.
However, two-thirds of those surveyed said that military men could intervene when elected leaders abused power. This is an argument that those who mount coups, as well as their supporters, often make in order to justify their actions.
The juntas in Mali and Burkina Faso have warned Ecowas against military intervention in Niger, saying it would be a "declaration of war" and they would go to defend their fellow coup leaders. So military intervention risks snowballing into a full-scale conflict.
However, Ecowas has previously sent troops to numerous countries – including Liberia, Sierra Leone, Guinea-Bissau and The Gambia – either to help end civil wars, reinstate deposed presidents or to force out leaders who refused to accept electoral defeat.
These interventions were in accordance with its mandate to maintain "peace, stability and security within the region", though its troops were also accused in some instances of human rights abuses.
Mr Ojewale is not sure whether the bloc has the military capability to intervene in Niger – a vast arid country on the edge of the Sahara Desert – especially when many of the countries that make it up, including Nigeria, are facing their own security challenges.
"The little resources they have may be stretched lean," he said.
The analyst believes that conflict between two sides could become a "zero-sum game", and worsen the humanitarian crisis in the region.
"There would be casualties as there would be people caught in the crossfire," he said, adding that a diplomatic resolution to the crisis would be better.
There are also questions about the safety of the ousted president, who is being held captive by the junta. Another analyst, Jaafar Abubakar, argues that he could become a "bargaining chip" in the event of military confrontation between Ecowas and the junta.
"It's in [the junta's] best interest to keep [Mr Bazoum] alive and well," he said. "If they kill him, they become all-out rebels with no form of legitimacy."
BBC NEWS
Short URL: https://newsrangers.com/?p=112937
Posted by
News Rangers
on Aug 2 2023. Filed under
International
,
National
. You can follow any responses to this entry through the
RSS 2.0
. You can leave a response or trackback to this entry