Israel Withdraws Diplomats From Turkey, Middle East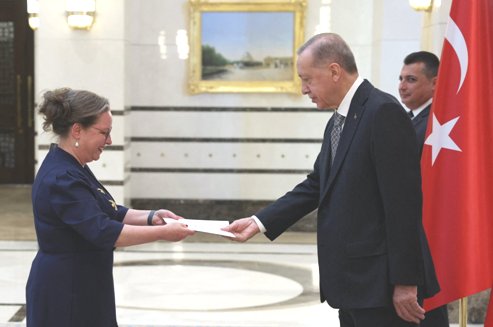 LAGOS OCTOBER 22ND (NEWSRANGERS)-Israeli diplomats, including Ambassador to Türkiye Irit Lillian, left Türkiye after Tel Aviv recalled them due to alleged security concerns as the country wages ruthless attacks against Palestinians in Gaza with Western support and global outrage.
All Israeli diplomats left the country on Friday, Ihlas News Agency (IHA) reported, adding that Tel Aviv is considering similar decisions for diplomats in Middle Eastern countries as well.
"It's a temporary measure, which should be for the short term," a source, who refused to be quoted by name, told AFP.
Israel's National Security Council late on Tuesday called on all Israelis in Türkiye to leave "as soon as possible."
On Wednesday, its consulate in Istanbul said it was for their own safety given the growing "terrorist threats" against Israelis abroad. The alert level had been raised to four, the highest level, a consular spokesperson told AFP.
Last year, following months of diplomatic warming, Israel and Türkiye announced the full restoration of relations and the return of ambassadors to both countries.
Türkiye, too, has appointed an ambassador to Israel. A presidential decree in November named Şakir Özkan Torunlar to the post.
Lillian presented her credentials to President Recep Tayyip Erdoğan in December 2022, marking a new era after four years with the position unstaffed.
Türkiye declared a three-day mourning after Israel's bombing of the Al-Ahli Baptist Hospital in Gaza, which killed almost 500 people, including displaced women and children who sought refuge at the hospital.
Pro-Palestinian protests have been raging across Türkiye and the rest of the globe since the conflict began on Oct. 7 when Hamas initiated a multipronged surprise attack by launching a barrage of rockets and infiltrations into Israel. The Palestinian group said the incursion was in retaliation for the storming of the Al-Aqsa Mosque and growing violence by Israeli settlers.
Israel responded with Operation Swords of Iron against Hamas targets in the Gaza Strip and has bombed the besieged city nonstop since. A growing chorus of nongovernmental organizations (NGOs) and world leaders is saying the Israeli bombing campaign on Gaza – including health care facilities, residences and houses of worship – violates international law and may constitute war crimes.
Gaza is already experiencing a dire humanitarian crisis with no electricity, while water, food, fuel and medical supplies are running out after Israel cut off access for the 2.3 million residents.
Türkiye has been among dozens of countries that shipped aid to Gaza but the city's only crossing with Egypt, the Rafah border gate, remains mainly closed despite mounting calls for Cairo to allow the delivery of humanitarian aid into the coastal area, which Israeli airstrikes have also pounded.
The Gaza Health Ministry said 3,478 people have been killed in Gaza since the war began, and over 12,000 were wounded, mostly women, children and the elderly. Another 1,300 people are believed buried under the rubble, health authorities said.
More than 1,400 people have died in Israel.
Daily sabah
For advert placement, events coverage, media placement, ublic relation consultancy and further inquiries please whatsApp2348023773039 or email: labakevwe@yahoo.com
Short URL: https://newsrangers.com/?p=116665
Posted by
News Rangers
on Oct 22 2023. Filed under
International
,
National
. You can follow any responses to this entry through the
RSS 2.0
. You can leave a response or trackback to this entry