Burkina Faso, Mali, Niger Military Leaders  Sign Mutual Defense Pact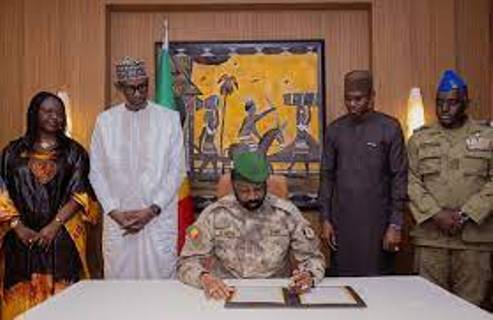 LAGOS SEPTEMBER 18TH (NEWSRANGERS)-The military leaders of Burkina Faso, Mali and Niger signed a mutual defense pact over the weekend, establishing the so-called Alliance of Sahel States.
All three of the West African nations, which neighbor one another, have military governments that seized control in a coup conducted since 2020, with Niger's civilian-led government being the most recent to fall in late July.
Col. Assimi Goita, Mali's junta leader, announced the signing of the Liptako-Gourma Charter on Saturday.
"I signed today with the heads of state of Burkina Faso and Niger the Liptako-Gourma Charter, establishing the Alliance of Sahel States with the objective of establishing an architecture of collective defense and assistance mutual for the benefit of our populations," Goita said in a statement published to X, the social media platform formerly know as Twitter.
The Liptako-Gourma region is the tri-border area of Burkina Faso, Mali and Niger and home to a growing complex crisis of insecurity and islamic terrorism.
The charter states the three countries will defend one another and combat all forms of terrorism and organized crime in the alliance's common area.
"Any violation of the sovereignty and territorial integrity of one or more contracting parties shall be considered as an aggression against the other parties and shall give rise to a duty of assistance and relief by all the parities … including the use of armed force, to restore and ensure security," the charter states, according to a copy published Sunday by Mali's Ministry of Foreign Affairs.
It also commits them to work to prevent and settle armed rebellion or other threats to territorial integrity and sovereignty, and not to engage in combat with one another or block each others ports, roads, coasts or strategic infrastructure.
The announcement comes as the Economic Community of West African States has threatened military intervention in Niger since its military deposed the civilian-led government of President Mohamed Bazoum on July 26.
UPI
For advert placement, events coverage, media placement, public relation consultacy and further inquiries please whatsApp 2348023773039 or email: labakevwe@yahoo.com
Short URL: https://newsrangers.com/?p=115221
Posted by
News Rangers
on Sep 18 2023. Filed under
International
,
National
. You can follow any responses to this entry through the
RSS 2.0
. You can leave a response or trackback to this entry