Survey Reveals 79% Of Nigerians Doubt Tinubu's Administration Seriousness About Tackling Corruption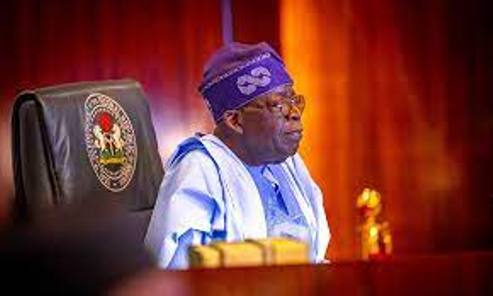 LAGOS AUGUST 20TH (NEWSRANGERS)-A presidential satisfaction and governance survey has revealed that 79% of Nigerians do not believe President Bola Tinubu's administration is serious about tackling corruption.
 The survey, which is for Tinubu's second month in office, was conducted by the Governance Advancement Initiative for Nigeria (GAIN).
 The survey was administered from July 29 to August 6, 2023, and is aimed at tracking the sentiments of the Nigerian people regarding the initiatives and policies of the Tinubu administration and providing the unadulterated views of the Nigerian public to their elected officials.
According to Dr Malcolm Fabiyi who coordinates GAIN, the survey was targeted at Nigerians of voting age.
GAIN said over 540 responses were received, providing a margin of error of ±4.2% at a 95% confidence level. It noted that 68.5% of respondents indicated that they voted in the 2023 presidential elections while 51.1% indicated that they had no political party affiliations.
Respondents were drawn from across all six geopolitical zones, both in terms of their places of origin and their locations of residence, the organisers said.
The organisers said, "We asked respondents to provide their views on whether they believed the Tinubu administration was serious about tackling corruption. A large majority (79%) indicated they did not believe the Tinubu government was serious about tackling corruption."
Also, the survey also shows that the majority of Nigerians "do not trust the Tinubu administration to be able to provide solutions to the pains caused by subsidy removal, inflation and foreign exchange rate".
"We added a question to the survey regarding whether respondents had confidence that the Tinubu administration could provide long-term solutions that will address issues such as the pains of subsidy removal, inflation and foreign exchange rates.
"64% of respondents indicated that they were not confident that the government could provide effective long-term solutions to these issues," the organisers said.
The survey period coincided with the release of the names of ministerial appointees.
According to the organisers, respondents were provided with three statements and asked to select the one that best aligned with their views regarding the ministerial list.
It was noted that 12% of respondents were very positive about the list, 30% had no clear views, and a clear majority (58%) expressed disappointment with the composition of the list.
"We provided respondents with the option of presenting clarifying comments. Most of the comments centered around concerns that many of the appointees were well-known political players who had not distinguished themselves in their prior areas of service and some of them were linked with corruption charges.
"There was a general sentiment that the driving factor for the selection of the appointees was driven more by political expediency than technocratic competency," the organisers added.
The poll sought to track the initiatives rolled out in the first 60 days of Tinubu's administration.
Saharareporters
For advert placement, events coverage, media placement, public relation consultancy and further inquiries please whatsApp 2348023773039 or email: labakevwe@yahoo.com
Short URL: http://newsrangers.com/?p=113782
Posted by
News Rangers
on Aug 20 2023. Filed under
National
. You can follow any responses to this entry through the
RSS 2.0
. You can leave a response or trackback to this entry