Peter Obi's Paramount Aspiration Is To Improve People's Lives – Archbishop Ibezim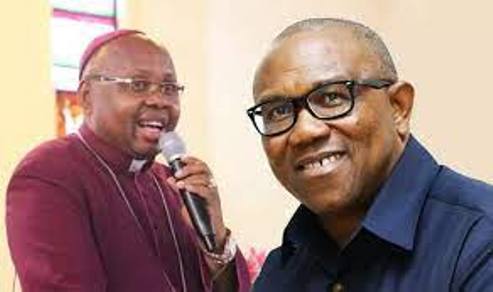 LAGOS SEPTEMBER 13TH (NEWSRANGERS)-The Anglican Bishop of Awka Diocese and Archbishop of Niger Province, Most Rev'd Dr. Alexander Ibezim, has characterised Mr. Peter Obi, the Labour Party Presidential Candidate, as someone whose paramount aspiration is to improve people's lives for the betterment of society. He lauded Obi as a firm believer in the idea that investing in humanity, particularly through projects focused on healthcare and education, holds the power to catalyse transformative change within society.
Archbishop Ibezim conveyed these sentiments at the recent Foundation Stone-Laying Ceremony for the Department of Midwifery and Public Health Nursing at the Millennium College of Nursing Sciences in Awka, Anambra State capital. He acknowledged that Mr. Peter Obi's substantial contribution of N40 million played a pivotal role in establishing this department and that Obi further extended his support with an additional N10 million during the event. The Archbishop emphasised that through Obi's generosity, the Millenium College of Nursing Sciences is not only transforming the lives of its students but also equipping them for promising careers in healthcare that meet global standards.
"Mr. Peter Obi's presence among us serves as a poignant reminder of his small mustard seed, which has blossomed into the substantial tree we see today. I recall vividly the moment many years ago when he handed me a lump sum cheque of N40 million. That single act of compassion marked the inception of this College of Nursing," Archbishop Ibezim said.
Continuing, he said: "Mr. Peter Obi, you will forever remain ingrained in our memories. Your name is etched in the annals of this institution's history. Today, time doesn't allow us to enumerate all the benevolent actions you've taken for us and our nation as a whole. Your decision to return mission schools to the church marked the genesis of the educational transformation we presently experience in the state."
"I don't typically offer accolades, but honesty compels me to speak the truth. Obi has strategically revitalized the educational landscape of Anambra State, and the nation as a whole can witness the positive outcomes of his educational reforms. He isn't solely an advocate for education; he's also a grassroots leader. Both I and the entire clergy of Awka Diocese will continue to extend our prayers for you in recognition of the numerous educational advancements you've ushered into the state. You are a catalyst for transformative change," Archbishop Ibezim said.
While presenting his donation of N10 million to the institution, Obi expressed his delight at what he termed the commendable efforts of the Archbishop. He went on to clarify that the inception of the institution was not solely a result of his initial seed support of N40 million but was equally the product of the Archbishop's passion and dedication towards a brighter future, wherein he responsibly managed the funds entrusted to him. Obi reiterated his steadfast commitment to investing in both the healthcare and educational sectors of the nation, recognising their pivotal roles in the country's overall development.
"I have consistently emphasised my commitment to participating in initiatives aimed at enhancing humanity, particularly in the realms of healthcare, education, and poverty reduction. The World Health Organization projects a significant shortage of health workers, especially nurses, by 2030—approximately 10 million. Thus, it is imperative that we make investments today in the training of additional healthcare professionals to bolster our healthcare sector and enable our talents to contribute globally, resulting in increased diaspora remittances," Obi said.
He underscored that the paramount infrastructure in any nation is its human infrastructure, saying: "If you construct physical infrastructure without concurrently developing the human infrastructure, society will ultimately falter."
Obi urged the students to approach their education and personal growth with utmost seriousness, as this would enable them "to be well-prepared contributors to a more prosperous society and to effectively compete on the global stage."
For advert placement, events coverage, media placement, public relation consultancy and further inquiries please whatsApp 2348023773039 or email:labakevwe@yahoo.com
Short URL: http://newsrangers.com/?p=115079
Posted by
News Rangers
on Sep 13 2023. Filed under
National
. You can follow any responses to this entry through the
RSS 2.0
. You can leave a response or trackback to this entry