Peter Obi: Young Nigerians Take On Political Corruption, Police Brutality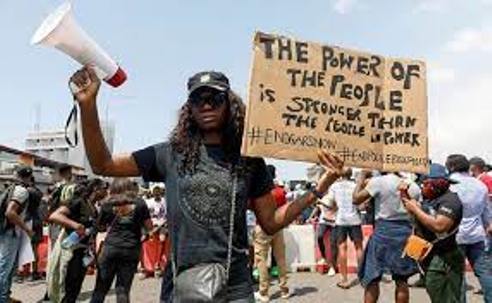 LAGOS JULY 20TH (NEWSRANGERS)-Most people who voted for Peter Obi, Nigeria's Labor Party presidential candidate in the country's 2023 presidential election, can't attest to knowing him personally. But Perpetual, who shares her hometown of Agulu in Anambra state with Obi, says she can.
So in February, amid a crippling economic downturn and the inconvenience of cash scarcity that preceded the election, 23-year-old Perpetual made the trip from her current home in Abuja, Nigeria's capital, to Agulu, where she is registered as a voter. It was her first time exercising her civic right. But this was not about bringing her kinsman into power; for her, voting had become a matter of life and death.
"I decided to vote because we needed change," Perpetual, who asked to use a pseudonym to protect her anonymity, tells Teen Vogue. "This country is as good as… dead. It will kill us, too, if we don't bring it back to life."
On the other side of the country in Bayelsa state, first-time voter Deigha, who also asked to use a pseudonym, made her way to a polling unit in Yenagoa, just past 8 a.m. But, she says, the electoral officers in charge of running the polling site didn't arrive until three hours later — and the voting machines they brought were malfunctioning. Later that day, Deigha adds, voting was disrupted by armed men who declared the elections must not be held. (Ultimately, the men left and forces arrived to prevent them from returning.) Despite the chaos, though, 21-year-old Deigha stood her ground and cast her vote.
Perpetual and Deigha voted for the Labor Party and Peter Obi, who won the popular votes in Agulu and Yenagoa. Says Perpetual, "I wanted to play a part in releasing Nigeria from the [All Progressives Congress (APC)-Peoples Democratic Party (PDP)] chokehold."
Obi, a two-time governor of Anambra state, has a track record of frugality and accountability that young Nigerians consider refreshing, rare qualities for a politician. He advocated for social and economic justice. "Obidients," the name Obi's supporters coined for themselves, used the slogan "Go and verify!" to urge those with doubts to take a closer look at Obi's record as governor, a testament to how confident they were in his clean books. Young people also consider Obi's third-force party, the Labor Party, a breath of fresh air compared with the ruling and opposition parties, the APC and PDP.
In 22 years of democratic rule, the PDP was at the helm in Nigeria for 16 years, from 1999 to 2007, and the APC ruled for eight, from 2015 to 2023. But many Nigerians maintain that the two parties are just different sides of the same coin of corruption and the government's inability to meet the basic needs of the population. The outgoing administration of President Muhammadu Buhari was characterized by an uptick in violence, an economic downturn, and documented human rights abuses. (The country's crippled public sector has become a constant source of worry for the 74% percent of the population who are under age 35 (Nigeria's median age is just 18). Students in public institutions are stuck in a constant loop of academic union strikes, and the working class are unable to live comfortably on earnings that are losing value due to inflation.
Deigha, a law student, says her concerns go beyond economics. For her, voting is a way to ensure that human rights are protected and young Nigerians can exercise their civic rights to vote and protest without fear of being harassed — or killed, as young Nigerians were during the #EndSARS protests against police brutality.
"It wasn't just me," Deigha recalls. "All my friends were also a part of the Obidient movement, because it represented hope. It felt like, for the first time, our voices could be heard and we as young Nigerians were doing something to change the status quo."
The #EndSARS protests, which culminated in the Lekki Massacre on peaceful protesters in October 2020, called for the abolition of the Special Anti-Robbery Squad (SARS), a sector of the Nigerian police whose members became known for extortion, theft, and brutal violence against Nigerian citizens.
The movement awakened a new consciousness among the hundreds of thousands who got involved, which awakened a new consciousness in Nigerian youth, which led to heightened interest in the political sphere, where decisions on democracy, governance, and socioeconomic policies are made. Young Nigerians saw their country suppress protests, kill protesters, and ban Twitter, which had been a tool for calling out oppression. These developments made many young people also see that oppressors have no business in the country's leadership, making them more determined than ever to vote out those oppressors or refuse them entry into power.
"You can draw a straight line from the #EndSARS protests to several pivotal decisions young people have made since 2020," says Muhammed Akinyemi, editor of Zikoko Citizen, a Nigerian culture and politics magazine, "including migration [from Nigeria], interest in politics and governance, and active participation in the election. The election was an opportunity to reclaim Nigeria and recover from the helplessness young Nigerians faced during the EndSARS protests."
It is reductive, however, to classify the Obidient movement as merely an offshoot of the #EndSARS protests, as many outlets have done. Says Rinu Oduala, project director of Connect Hub NG, who was on the front lines of the #EndSARS protests, "On its own, #EndSARS is a different movement. It was a movement about police brutality and bad governance. During the protests, young Nigerians — after calling out lawmakers and politicians — understood that police brutality is rooted in bad governance, so the clamor against" lack of government accountability also arose.
But, Oduala points out, youth movements like the #EndSARS protests did establish possibilities and building blocks for other movements in the future: "What #EndSARS did was create a reawakening of the citizens to ensure that they hold leaders accountable in every way they can. The protests raised the bar of consciousness in young Nigerians of our rights, roles, and responsibilities as citizens through participation in holding government and politicians accountable."
Oduala continues: "It also showed the possibilities that young Nigerians could enact change. If young Nigerians could crowdfund and organize themselves to provide legal and medical aid during protests in less than two weeks, and get their voices heard in the places that matter, it showed the possibilities that could occur in other mass movements."
In conclusion, Oduala says, "the dividends of the #EndSARS protests can be seen in the Obidient movement. If young Nigerians can do it with #EndSARS, why can't they with politics? That is the link between the two movements."
The results of the elections were announced by the Independent National Electoral Commission in the early hours of Wednesday morning, about four days after the elections were conducted. Nigerians woke to the news that Bola Ahmed Tinubu of the ruling party was their president-elect.
That same morning this reporter observed an increase in the presence of security operatives and checkpoints in Abuja, as though authorities were waiting to swiftly clamp down on any agitation. Instead, there was mostly silence. In the city's streets, though, passersby could be heard uttering angry hisses followed by "Na wa o," a Nigerian exclamation meaning "This is serious/terrible," which can be used to express disbelief, frustration, or absurdity.
Young Obidients greeted the electoral results with mixed feelings: On one hand, they were disappointed by the prospect of another administration of the ruling party, with some residents considering relocation to avoid a continued cycle of economic decline and security threats; on the other hand, the Labor Party garnered support from huge numbers of Nigerians who voted for "mama, papa, pikin" — the Labor Party emblem features a mother, father, and child on it — for presidential and legislative House positions across the board.
Labor Party candidates gained power in longtime strongholds of the ruling and opposition parties, winning House of Representative seats in places like Lagos and in the Senate in places like Abuja. These victories were nothing short of a miracle for Obidients, who, at the start of the movement, had been dismissed as "four people tweeting from a room."
Says Perpetual, "Look at the power of 'four people tweeting' on a platform that had been banned two years ago by the current administration. Look at what we've been able to achieve."
She, like a lot of other Obidients, believe the elections were rigged in favor of the ruling party and against Obi. "We are in court to recover our mandate, and we will be successful," Perpetual says of the petition to reschedule the elections, which is now being considered by the country's Presidential Elections Tribunal.
Deigha, the law student, does not have as much faith in the courts as Perpetual does. Deigha is "hoping for success," she says, but "I have never really seen, especially in this country, that the presidential election has been [overturned]."
"There hasn't been a post-independence Nigerian election that has not had violence and rigging in the mix," says Akinyemi. "There were a lot of first-time voters at the 2023 polls who would've stayed away but hoped things would be different. It was the hope that hurt the most. Technology — which they thought wasn't as fallible as man's desire and greed — failed when it mattered."
The results of the election may have dashed the Obidients' hope some, but the movement has created a paradigm shift in the Nigerian political space. Already, there are about 40 elected Labor Party members in the National Assembly and one elected governor, where previously there had been none.
Young Nigerians have been shot at and killed in the demand for their rights. They have been intimidated, bullied, and disenfranchised in trying to exercise their civic rights. But they are still standing up for what they believe in. Oduala insists that their courage and resilience be applauded.
The Obidient movement, Oduala says further, is hope sustained: "We witnessed a generational disruption, and for the first time in Nigeria's political history, Nigerian politicians were no longer confident of their seats. That arrogance and ego — that they were entitled to our public offices — disappeared."
TeenVogue
Short URL: http://newsrangers.com/?p=112082
Posted by
News Rangers
on Jul 20 2023. Filed under
National
. You can follow any responses to this entry through the
RSS 2.0
. You can leave a response or trackback to this entry