Niger Junta's 3-Year Transition Plan Is A 'Provocation,'-ECOWAS Commissioner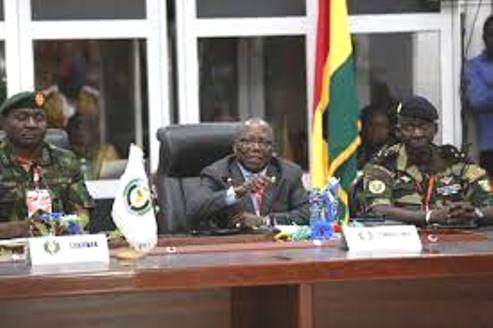 LAGOS AUGUST 24TH (NEWSRANGERS)-The West African bloc ECOWAS rejected the proposal by Niger's mutinous soldiers for a three-year transition to democratic rule, with a commissioner describing the slow timeline as a provocation.
The door for diplomacy with Niger's junta remained open but the bloc is not going to engage in drawn-out talks that lead nowhere, Abdel-Fatau Musah, the ECOWAS commissioner for peace and security, told The Associated Press in an interview Wednesday.
"It is the belief among the ECOWAS heads of state and also the commission that the coup in Niger is one coup too many for the region and if we allow it then we are going to have a domino effect in the region and we are determined to stop it," Musah said. While direct talks and backchannel negotiations are ongoing, he said the door to diplomacy wasn't open indefinitely.
"We are not going to engage in long, drawn out haggling with these military officers … We went down that route in Mali, in Burkina Faso and elsewhere, and we are getting nowhere," Musah said.
His comments came days after an ECOWAS delegation met the head of Niger's military regime, Gen. Abdourahmane Tchiani, for the first time since the mutinous soldiers ousted President Mohamed Bazoum in July.
After last week's meetng, Musah said the ball is now in the junta's court.
The junta has been keeping Bazoum and his wife and son under house arrest, and ECOWAS has demanded Bazoum be freed and constitutional order restored.
ECOWAS has used Niger as a red line against further coups after several in the region, including two each in Mali and Burkina Faso since 2020.
The bloc has imposed severe economic and travel sanctions and threatened the use of military force if Bazoum is not reinstated, but the junta has dug in. It has appointed a new government and said it will return the country to democratic rule within several years.
Niger was seen as one of the last democratic countries in the Sahel region below the Sahara Desert that Western nations could partner with to beat back a growing jihadi insurgency linked to al-Qaida and the Islamic State group. France, other European countries and the United States have poured hundreds of millions of dollars into providing equipment and training for Niger's military and in the case of France have conducted joint operations.
Since the coup those military operations have been suspended while both sides decide what to do. France and the U.S. have some 2,500 military personnel in the country and the U.S. operates two key drone and counter-terror bases.
Musah said ECOWAS was not discussing military plans with any external partners and everything it was planning is based on the resources of member states. Earlier this month, ECOWAS said 11 of its 15 member states had agreed to intervene militarily if talks didn't work.
ECOWAS is banking on a combination of external pressure through sanctions and internal unrest within Niger's security forces and the fact that Tchiani, the junta's leader, met with ECOWAS face to face after multiple attempts, is a sign that the coup leaders are feeling the pressure, said Nate Allen, an associate professor at the Africa Center for Strategic Studies.
"Nonetheless, it is clear that the two sides remain very far apart and the risk of conflict is high," he said.
AP
For advert placement, events coverage, media placement, public relation consultancy and further inquiries please whatsApp 2348023773039 or email:labakevwe@yahoo.com
Short URL: http://newsrangers.com/?p=114014
Posted by
News Rangers
on Aug 24 2023. Filed under
National
. You can follow any responses to this entry through the
RSS 2.0
. You can leave a response or trackback to this entry