Niger Junta Proposes Return To Democracy Within 3 Years, Threatens To Fight Back If Attack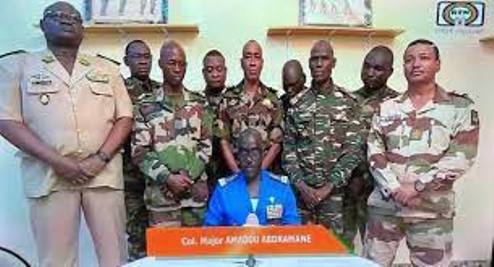 LAGOS AUGUST 20TH (NEWSRANGERS)-Niger's military ruler General Abdourahamane Tchiani, who ousted President Mohamed Bazoum and seized power in a coup, has proposed a return to democracy within three years.
Neither the junta "nor the people of Niger want war and remain open to dialogue," General Tchiani said during a televised address on Saturday evening.
He said the principles of the transition would be decided within the next 30 days as part of a national dialogue hosted by the junta and the transition itself "should last no longer than three years."
The dialogue would define "national priorities" and "call for fundamental values to guide the rebuilding" of the West African country, he said.
The junta took power in late July, seizing Bazoum – who had been elected democratically in 2021 in a relatively peaceful transfer of power – and shutting down national institutions.
Leaders from the Economic Community of West African States (ECOWAS) have responded to the coup by enacting sanctions and issuing an ultimatum to the junta to stand down or face a potential military intervention by a regional standby force.
A delegation of ECOWAS leaders met with Tchiani in the capital Niamey on Saturday and visited Bazoum.
Tchiani said in his televised address that the junta's ambition was "not to confiscate power."
"I also reaffirm our readiness to engage in any dialogue, as long as it takes into account the orientations desired by the proud and resilient people of Niger," he said.
But he warned that the junta would fight back if attacked.
"If an attack were to be undertaken against us, it will not be the walk in the park some people seem to think."
The junta previously claimed it had gathered evidence to prosecute Bazoum for "high treason."
Niger lies at the heart of Africa's Sahel region which has seen numerous power grabs in recent years including in Mali and Burkina Faso.
It had been one of the few remaining democracies left in the region.
Short URL: http://newsrangers.com/?p=113703
Posted by
News Rangers
on Aug 20 2023. Filed under
International
,
National
. You can follow any responses to this entry through the
RSS 2.0
. You can leave a response or trackback to this entry