Lagos:Notorious Cultist Linked To Police Officer Murder In Ijanikin Arrested In Ajegunle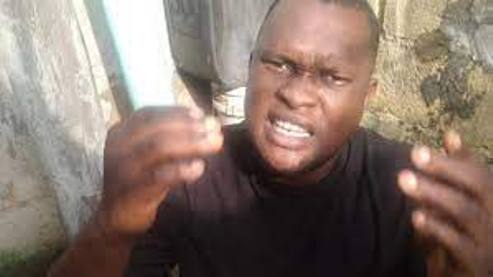 LAGOS SEPTEMBER 15TH (NEWSRANGERS)-Detectives attached to the Commissioner of Police Special Squad 2, headed by Chief Superintendent of Police (CSP), Joel Ugowe Igbinazaka, have arrested a wanted cultist, who allegedly led the squad that murdered and beheaded a police officer some months ago in Ijanikin area of Lagos State.
The suspect, Ehis Job Philips, was arrested in Ajegunle, a densely populated area of Lagos, in the midst of his cultist friends.
The 38-year-old father of two, who was imprisoned in 2019 over cult-related issue, but got his freedom early this year, was said to belong to the Black Neo Movement a.k.a Aye Black Axe Confraternity, and had wreaked so much havoc in Ajegunle and environs.
A senior police officer, who spoke on condition of anonymity because he was not qualified to speak to the press, said the suspect had been on the wanted list of SWATT, X-Squad, IG Monitoring Unit, and other units of the police for his notoriety.
He said: "This man has caused so many untold hardship and sorrow to so many families in Lagos State as a whole.  He is a member of the Aye cult, who led the squad that murdered one of our officers in Ijanikin.
"They killed, beheaded him, mutilated his body and took away his arm and ammunition. When they kill, they will collect the victim's property. They collected his Automated Teller Machine (ATM) card, and empty his bank account. That was what they did in Aguda, Ojora, Iyany-Isasi and Ajegunle.
"Information at our disposal is that on March 1, five of them, Peter, Daisi, one Alabi, and another member held a meeting at City Point Hotel Wilmer in Apapa, after which they went to kill somebody at Ojora.
"There is one guy called Adura, he is the one that sells hard drugs to them. Phillips wanted to initiate him, but Daisi stopped him on the ground that Adura may not have the mind to do what they do. Sometimes, if they want to go and kill, they ask Adura to survey the area for them.
"He told us that all the guns of the cult group are with Phillips, and the whole of Ajegunle knows him as the number one man of the Aye cult group."
According to the officer, Daisi in his confessional statement in Area B told them that the five Beretta pistols and two guns are in the custody of Phillips.
Initially, the suspect, he said, confessed that he lived across the river in Satellite town, and that his guns were in his wardrobe.
"But on further interrogation, he said he is living in Satellite town, only for us to get there and didn't find any gun in his wardrobe.
"We later learnt that his wife had taken the guns and hidden them. We would have arrested him long ago at Kehinde Street, Ajegunle, but when he was apprehended by one of our officers, he shoved the officer violently into a gutter because of his built, and escaped amid gunshots that didn't pierce his body," the officer added.
However, Philips, a Sociology graduate, debunked the allegations, claiming that though he actually joined the cult group in 2009 at the University of Benin because he wanted to belong to the group of the big boys on campus, he was not involved in the murder of the officer.
The suspect claimed that he is now regretting his action because in times of trouble, none of his members showed up.
The Sabongida Ora, Edo State-born suspect said: "I was a cultist before, but I vowed that when I eventually get my freedom from prison, I will have nothing to do with cultism again. While I was imprisoned in 2019, none of my members showed up. So, I said if God helps me, I would renounce cultism and relocate from Ajegunle, which I did immediately. I got my freedom because I didn't want anything relating to cultism again.
"But two years later, a cult fight erupted in Ajegunle. I didn't participate in it. So, I think the police are holding me now because of my past life; that being a former cultist, I must know something about the killing in Ajegunle, which I have told them that I am no longer involved in cultism.
"The reason I went to prison was that I was the arrow head of the killing of two members of Eiye Confraternity. My recent arrest was because I went to Ajegunle to see my mother who complained that she had cataracts and I gave her N50, 000 out of N150, 000 she demanded.  It was while I was attempting to board a motorcycle to the express that I was arrested.
"The police said I killed an officer in Ijanikin, that is a lie! I am aware of it because it was my people that did it, but I was not there. Every Aye cult enclave has 'strikers'.  So if I am the 'striker' in Ajegunle for instance, I cannot go to Ijanikin to be the 'striker' there. There is LACOED, there is LASU on that axis, there is no way I can be a member of that squad. Yes, I know those that carried out the hit, even when one of the boys, who beheaded the police officer ran to Ajegunle to seek asylum, I was the one who led the police to his hideout though he fled the place before we got there," Phillips explained.
The Guardian-Nigeria
For advert placement, events coverage, media placement, public relation consultacy and further inquiries please whatsApp 2348023773039 or email: labakevwe@yahoo.com
Short URL: http://newsrangers.com/?p=115154
Posted by
News Rangers
on Sep 15 2023. Filed under
National
. You can follow any responses to this entry through the
RSS 2.0
. You can leave a response or trackback to this entry