Lagos Lawyer Berates Kwara Police For Stopping Ifa Worshippers From Celebrating World Isese Day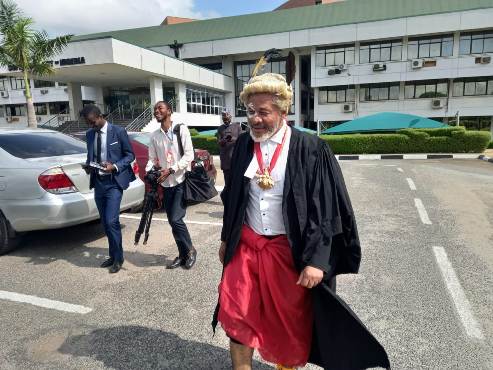 LAGOS AUGUST 15TH (NEWSRANGERS)-Lawyer and Human Right Activist, Chief (Barr) Malcolm Omirhobo has berated Kwara State police command for preventing the devotees and adherents of Ifa/Orisa worshippers from celebrating World Isese Day festival in Ilorin Kwara state.
Omirhobo in a statemet titled, " Police Violation of the fundermental rights of the devotees and adherent of Ifa/Oris" made available to NewsRangers  stated that the publication of the Nigerian police Kwara State Command  that Ilorin is not safe for members of the International Council of Ifa / Orisa Religion (ICIR) to celebrate their World Isese day is a irresponsible , dereliction of duty  , abuse of powers and bundle of false hood .
According to him, "Members of ICIR planned to celebrate World  Isese day in Ilorin Kwara State on 20/8/2023 at the bank of River Yemoja , Oko Olowo express way and consequently distributed invitation cards and wrote notifying the Commissioner of Police ,(COP) seeking  for security and logistics support .  This did not go down well with many Muslims in Ilorin who threatened to attack them and disrupt  the program  arguing that  llorin  is an emirate and that Isese is idolatry and cannot be allowed in Ilorin and should be taken elsewhere .
"Consequent upon the above , the Kwara State Commissioner of Police  invited members of ICIR to the police command for a meeting on 14/8/2023 . At the meeting the COP dehumanised members of ICIR describing them for wanting to celebrate Isese as idle people .  Without mincing words she threatened and warned them not to go on because some people have concluded plans to attack them , killing and maiming them and members of their families . When asked by Chief Malcolm Omirhobo counsel to ICIR who the assailants of his clients are ?  She asked him to ask his client .
"Omirhobo further asked the COP if his clients and their guest could change venue from the River Yemoja to River Binan /Omorro since their Muslim brothers have decided to celebrate their emirate day at River Yemoja  on 20/8/2023, :she categorically warned that no where is safe for the celebration of Isese in Ilorin  and that they should take it to Osun or Ogun or elsewhere .
From the above,  it is clear that the police is violating the fundamental rights of members of ICIR  to the  dignity of their  human person, to their freedom of thought, conscience and religion, freedom of expression, freedom peaceful assembly and association and movement enshrined and guaranteed to them by Sections 34(1)(a), 38(1), 39(1) 40(1),41(1) of the  1999 Constitution of the Federal Republic of Nigeria (As Amended).
"The conduct of the police is illegal, unlawful and unconstitutional  to the extent that it violates the fundamental rights  to Freedom from Discrimination of members of ICIR  .Whereas  Christians in Ilorin are allowed to celebrate their Christmas without any disturbance,  Muslim celebrate Sallah without any disturbance but when it comes to  the turn of African traditional Religion , Ifa /ORISA devotees and adherents  to celebrate Isese they are  coerced, threatened ,  harassed , intimidated ,embarrassed , repressed and  not  allowed by the very police who is suppose to protect them."
Short URL: http://newsrangers.com/?p=113546
Posted by
News Rangers
on Aug 15 2023. Filed under
National
. You can follow any responses to this entry through the
RSS 2.0
. You can leave a response or trackback to this entry