2023: Top Ten Most Wealthiest Nigerian Yahoo Boys And Net Worth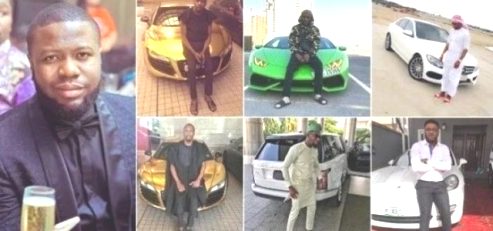 LAGOS SEPTEMBER 28TH (NEWSRANGERS)-This article will focus on Nigeria's wealthiest Yahoo boys. Besides that, in order to identify these individuals, we must first explain what a yahoo boy is. A yahoo boy or guy is someone who pump fakes and engages in 419 or fraudulent operations to gain money online that is never legitimate. Fake emails and social media profiles are one of the most common strategies used by yahoo boys to entice their victims. This would allow them to prey on their victims' psychology and steal from them through any ponzi or scam scheme.
Many yahoo boys have made money and amassed wealth by deception, and some even conceal the source of their income in order to display it. This article will provide you with the details of top ten most affluent yahoo boys in the country.
We take a quick glance at the top ten yahoo boys in Nigeria today, as well as their net worth:
RAY HUSHPUPPI – $480 MILLION
Hushpuppi is without a doubt Nigeria's richest yahoo boy. In terms of a special taste for expensive luxury living, there are few Nigerian Yahoo boys that can easily compete with Ray Hushpuppi and win.
Hushpuppi frequently posts photographs of his flashy lifestyle on social media, and he regularly brags about his pricey new car purchases, complete with receipts.
With an estimated net worth of over $480 million dollars, Hushpuppi is currently Nigeria's richest and most influential Yahoo boy. Hushpuppi and his gang were recently arrested in Dubai by the FBI and Interpol in connection with an alleged fraud case.
INVICTUS OBI – $23 MILLION
Wikipedia rates Mr. Obinwanne Okeke, alias Invictus Obi, has been dubbed Nigeria's wealthiest scam artist. He was named among the youngest billionaires by Forbes at the age of 30 until he was busted by the FBI for his fraudulent scam. He was revealed as a scammer by the FBI and was involved in one of the largest cyber frauds in the United States and Nigeria.
Invictus eschewed show offs and lived a solitary life free of social media. He wasn't the sort to flaunt his money on social media sites like Instagram.
Obinwanne George Okeke is one of Nigeria's richest Yahoo guys, with a net worth of more than $23 million.
SHY BOSS – $5 MILLION
Shy boss leads a lavish lifestyle in order to entertain his 280k Instagram followers. He's also an upper edge Nigerian Yahoo boy, according to what we've learned. Despite the fact that Shy Boss claims to have been shy in the past, he is a Nigerian socialite who flaunts his fancy clothes and accessories.
As a yahoo boy in the country, Shyboss is supposed to have a fleet of fancy cars. He also has properties in affluent locations like as Ikeja, Lekki, and VI. When you consider his assets and liabilities, Shy Boss' net worth is estimated to be around $5 million.
MOMPHA – $11 MILLION
Pictures aren't always deceiving. Mompha is a wealthy Lagos businessman who posts photos of himself with stacks of dollar notes to his Instagram feed.
Mompha is also one of Nigeria's biggest stars. What sets him apart from the rest is that he frequently provides advice to his followers on how to get money by working hard.
Mompha also owns the Mompha Bureau De Change in Lagos State, which is rumored to be one of his wealth sources. Interpol (supposedly) apprehended him lately, and the EFCC arraigned him this year. His estimated net worth is $11 million.
BADDY OOSHA – $6 MILLION
Baddy Oosha, who has a net worth of $1 billion, is another of the country's wealthiest yahoo boys.
Badmus Akeem is his true name. His fame has led to him starring in a film alongside Toyin Aimakhu. Popular artists such as 9ice, Lil Kesh, and Olamide have all mentioned him in their work.
KING JIDE – $6 MILLION
King Jide, also known as the Marchor of Capetown, is a Nigerian Yahoo boy based in South Africa. His extravagant lifestyle has attracted a large following. He rose to prominence after squandering N5 million on 1 Dom Perignon and 30 Aces of Spades in Lagos.
No one knows where King Jide's millions or money come from, but we do know that he lives luxuriously and proudly displays his wealth.
AREMO GUCCI – $6 MILLION
Aremo Gucci is also on the list of Nigeria's wealthiest yahoo dudes. He is a well-known socialite with hundreds of millions of Instagram followers.
Aremo, like Hushpuppy, flaunts Gucci clothing and accessories. Aremo too has a high-priced lifestyle and spends extravagantly. He owns a number of flashy automobiles, and his crib is supposed to be exquisite.
Aremo is one of Nigeria's top big boys who tried to hide his wealth but couldn't due to his spending habits.
B NAIRA – $5.5 MILLION
B Naira is a musician who isn't particularly well-known. He also runs a studio for music production. He's wealthy, youthful, and well-known for his lavish lifestyle. Adewale Adebayo is his true name.
In the country's music industry, his single "Jasi" brought him prominence and little recognition. B Naira graduated from the University of Lagos with a degree in Geography.
INVESTOR BJ – $5.5 MILLION
BJ, an investor, is also one of the country's wealthiest Yahoo boys. He claimed to be the only African in Malaysia who had been recognized by Gucci, and he had proof.
Investor BJ made headlines when he chastised HushPuppi for trying on clothing and snapping photos with him at the Gucci store. He shared a photo of himself in their office, where he bought some expensive Gucci garments, to prove his claim as the sole officially certified African Gucci ambassador in Malaysia. He allegedly did this to annoy HushPuppi.
WAYNE DESKID – $5 MILLION
Last on the list is Deskid Wayne. He is truly one of Nigeria's wealthiest Yahoo lads. Despite his youth, it is believed that the money he earns on a daily to weekly basis is enticing.
When he set fire to the highest denomination of a dollar note and posted a picture of it online, he became famous. He frequently shares photos of himself and his girlfriend with his Instagram followers.
CONCLUSION
While there are other self-proclaimed Yahoo boys who have amassed substantial riches, these are the most prominent.
Finally, we advise our children to follow the correct path in life in order to be remembered for the right purposes.
Nigerian Inforfinder
For advert placement, events coverage, media placement, public relation consultancy and further inquiries please whatsApp 2348023773039 or email: labakevwe@yahoo.com
Short URL: http://newsrangers.com/?p=115762
Posted by
News Rangers
on Sep 28 2023. Filed under
National
. You can follow any responses to this entry through the
RSS 2.0
. You can leave a response or trackback to this entry