Government Involved In Ritual Killings In The Country – Philomina Christopher-Oji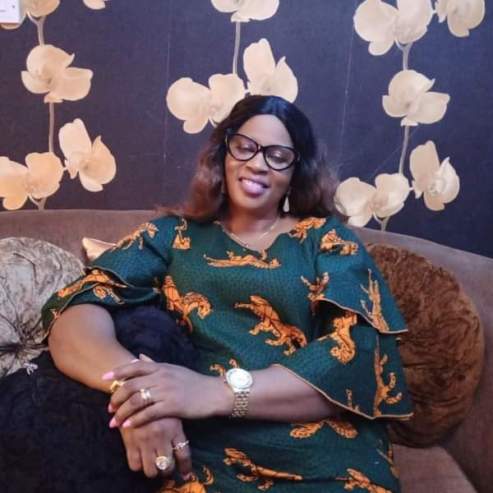 LAGOS OCTOBER 7TH (NEWSRANGERS)-Philomina Ngozi Christopher-Oji, is the chief executive officer of Phil Chris Media Company, Lagos, Nigeria, publisher of Cornerstonenewsng.com. The former banker-cum-interior decorator turned journalist has linked the ritual killings and sudden disappearances of citizens to the government and its agents. In this telephone interview with journalists, as she has gone underground for fear of being killed by those after her life, she said that, in spite of her challenges, she would continue to speak out on the injustices being done to citizens by the government and political office holders. She challenged the Nigerian government to use its security agencies to fish out those involved in ritual killings, if it doesn't have any role in the atrocities.
My take on ritual killings
I have decided to talk about the so-called ritual killings going on in the country. It is becoming too alarming. Really, when you open the pages of newspapers or you listen to electronic media or, better still, you go to the new media, you learn of sudden disappearances of citizens or of ritual murder. I stand to be corrected, but my investigation has shown that there is nothing like money-making rituals. What we are seeing or hearing about are stories told by the government and its security agencies to cover up their crimes. There is nothing like money-making rituals, as the government and its security agencies are making us believe. What we have is a cartel of organ harvesters being sponsored by government. It is a booming business. I have gone to a place in Jankara, Lagos, where human body parts are sold. It is the same thing in Borno, Kaduna, Kano and Ogun states, where human parts are sold, and our security agencies are aware.
Remember that a contractor discovered, at least, 24 corpses under the hitherto abandoned Sango-Ota Flyover when it returned to site in  June 2009 .
Deputy Director of Highways, South-west, in the Federal Ministry of Works, Housing and Urban Development, Mr. Robert Agwusiobu, disclosed this to newsmen at Sango-Ota, Ogun State,.
Again, remember how a commercial motorcycle operator escaped ritual killing at Obadare Bridge, Iba , Lagos . When the police went for investigation, they saw dead bodies everywhere under the bridge. What happened, up til today, no one was arrested or held accountable for the deaths, because the powers that be ordered that the police should stop investigation. How about  the recent alarm raised by  Abia State Governor, Alex Otti of No fewer than 50 decomposing, 20 headless bodies  uncovered around Lokpanta Regional Cattle Market in Umunneochi Local Government Area of Abia State? The Federal Government or the police have not done anything about it today. If a governor could raised the alarm over such a magnitude of crime and nothing is done, you can see how precarious the situation is in Nigeria. We are doomed.
The government works with some health workers, including doctors, who do the hatchet jobs for them.
How did you know that the killings were not for ritual purposes? 
I am not saying that some of the killings are not for ritual purposes, after all, big-time government officials belong to one cult or the other where human blood is sacrificed to their gods, but what I am saying is that they are not for money-making rituals. Is it logical and scientific for a human being to turn to money? It is not possible, and even the police and lawyers will tell you that it is not possible, yet the police are being used to promote the belief that people make money through rituals. The other dimension is that our political leaders, from the President down to the local government category, are involved in secret societies that believe in rituals. Outside organ harvesting, our politicians believe in using human beings for rituals to secure political power.
If you doubt what I am saying, cast your mind back to the  electioneering era, you will see that the number of missing persons, especially virgins, tripled. Every day, an average of 20 people go missing in Nigeria, yet no one is saying anything about it. Go to our police stations and see reports of missing people, yet the police and other security agencies cannot do anything about  it because they have been bought over by the government. I stand tall to speak unequivocally that the government and its agencies are involved in the killings all over the country.
The government employed some people who do organ harvesting for them. The cartel is so powerful that security agencies cannot touch them.
But there are young people who are involved in 'Yahoo-plus' driving big cars and building mansions…
That is what I am saying. Are you saying that the human body makes money, does it turn to a ghost to print money? Not really, the young boys you see driving big cars have been recruited into the cartels; so they give them oaths to swear and arm them with tools to work. The cartel is well organized and comprises health workers, security agencies and top politicians. In fact, outside of the ones that terrorists are doing, the greatest challenge is youth involvement in organ harvesting. A senior police officer confided in me that, besides killing people for organ harvesting, top politicians use human blood for rituals. He told me that they are foolishly worshipping some idols, which they believe are the source of their power. He told me that I should look at the statistics of missing persons during the electioneering period. He said the number of missing persons always skyrockets. The bad news is that the officer told me when they make an arrest of the criminals involved in ritual killings or organ harvesting, calls would come from the IGP or big politicians to release the suspects. He told me that when any whoone fails to comply with the directives from the top, such a policeman would be roped into one crime or the other and thereafter dismissed from the force or killed. You can see that the government is really involved.
Why are you always against the government?
I am not against the government but against the injustices being meted to the ordinary man. The poor masses can no longer breath. The APC-led government under President Muhammadu Buhari promised us change and we saw the 'change' they gave to us. A change that brought sorrow and tears. A change where a bag of rice, which was at the rate of N8,000 under former President Goodluck Jonathan, became N25,000. President Bola Tinubu, who was the leader of the APC, took over from Buhari and brought untold hardship to us. We thought that Tinubu would perform better, but Buhari is better than Tinubu. A bag of rice is now N55,000. The prices of drugs are outrageous and expensive and my people are dying every day. Many students can't go back to school, and you expect me to keep quiet? I thank God for the new media, because the traditional media companies have been bought over with money, especially with advertorials. Nobody is criticising the government anymore. Many times, I have been warned to stop talking or I would be killed. The problem is that when I reported to the police, a senior police officer, who confided in me, told me to run away for my dear life. He told me to leave Africa. I wasn't perturbed, until I started seeing strange things. One time, I saw a written note on the door of my car. The warning just said, "Want to stay alive, stop writing rubbish about APC." Yet, I was still not really worried, until some people started attacking me on the road and even tried to abduct me. I am in hiding now. My life is really in danger, but I have to do the needful. My husband, who is also a journalist, is under serious threat because of me. My children are also under serious threat, but I must do my job.
In fact, there are serious concerns around the soaring prices of goods and services, depreciating currency, volatile exchange rate, illiquidity in the foreign exchange market, high interest rate and high trade costs. There are also fears about weak and declining purchasing power, escalating production costs, rising energy cost, slump in industrial capacity utilisation and erosion of profit margins. Yet the government and its agents are still buying exotic cars for themselves, and they want me to keep quiet.
You claimed that you and your family were under threat; could you throw more light on this? 
I am not claiming but saying it unequivocally that my life, my family, husband and children, are under serious threat. You notice that I am in hiding. Well, it is not new. You have seen how many journalists were murdered in cold blood. You can see that, without the social media, our traditional media have been bought over by the government; none of them is doing editorials on the draconian laws and selfish dealings of the government. Our political leaders and office holder are busy enjoying themselves, allocating huge sums of money to themselves. The system is what I criticised, and I am being hunted. The irony is that, instead of taking correction, the government and its agencies want to kill me and my husband. The last time some people wanted to abduct me, after my escape, I went to report at a police station. I was advised by a senior police officer who knew my husband very well to run away from Nigeria and other African countries, because I was in danger. I am tired of everything. Where will I run to? And even if I run away, what about my husband and children, who are also targets because of me?
This country is finished. Nobody can criticise the government anymore. We were told to hold the government accountable, but who will bell the cat?
The policeman asked if I had heard of Thulani Maseko, who fought tirelessly to demand justice and political reform for the people of Eswatini, formerly  known as Swaziland, I said yes, and he said Thulani lost his life earlier this year while fighting for the same cause last year. He went further to ask if I remembered Vanguard newspaper reporter, Tordue Salem, a House of Representatives correspondent in Abuja, who vanished in September 2021 and how he was found dead. I was petrified and I decided to go underground.
When I remember people like Jerry Agbeyigbe, aviation activist, and Newswatch editor, Dele Giwa, who were murdered in cold blood and no arrest was made, I weep for my country. If I die, I won't be able to write or criticise the government. It is my calling, to hold the government accountable to its actions and inactions, but Nigeria and Africa in general are not places for journalists to thrive, or they would be wasted. As I am in hiding, my family is also in hiding. Why is the government also after my husband and children? I should be held accountable and not the entire family. I am an entity, I speak for myself. If they were pursuing only my husband, well, he is a journalist, perhaps they might conclude that we work together, but what of my two innocent kids that they are threatening through WhatApp calls that they know their schools and that they would trace them to school? The government should leave my family alone.
For advert placement, events coverage, media placement, public relation consultancy and further inquiries please WhatsApp 2348023773039 or email: labakevwe@yahoo.com
Short URL: http://newsrangers.com/?p=116029
Posted by
News Rangers
on Oct 7 2023. Filed under
Interview
,
National
. You can follow any responses to this entry through the
RSS 2.0
. You can leave a response or trackback to this entry